Jiffy Tom Yam Fried Rice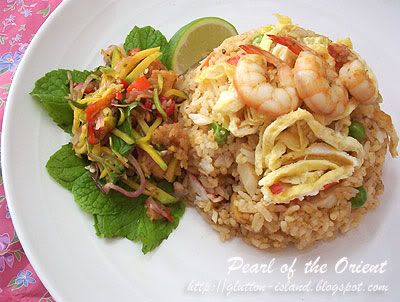 Since the beginning of the year, I've been super busy planning and carrying out my projects. To make things worse, I've also been bogged down by system problems. Life hadn't been easy for me this month. Nevertheless, I will faithfully update this blog from time to time...
As a busy person, I am really grateful of advent of instant foods. A couple of weeks ago, I made Tom Yam fried rice for my family. I used leftover rice, some prawns, frozen mix vege, shredded wild ginger flower and kaffir lime leaves to come up with a really appetizing fried fried rice. As for the Tom Yam flavouring, I used Maggi Tom Yam paste (which cost only 80 cents per sachet). You don't have to use Maggi. You can use any other brands like Adabi, Peace brand etc... The whole process was really quick and easy. All you need to do is just heat up the wok, add a little oil and cook the prawn or meat until just cooked, then, add in the Tom Yam paste, followed by the rice and the rest of the ingredients. Adjust the seasoning with a little sugar, salt and Thai fish sauce. The result was really tasty!
I bought some mango kerabu from an ecomony rice stall to go with the fried rice .I also served the rice with some lime wedges. My family really liked the meal a lot and they gave it a thumbs up.
By the way, Hay Hay It's Donna Day #2 starts tomorrow and I've recieved some early bird entries already. I can't wait to see all your wonderful entries and thank you for participating!