Childhood Food Memories Meme
Many weeks ago, I've been tagged by Greenapple from My Felicity Corner to do a cute little Meme about one's childhood favourite food. Though as cute and interesting as this Meme sounds, Glutton Rabbit delayed and delayed in doing so. To make things worse, she even let it drag it over the new year and now she feels terribly guilty. My sincere apology to Greenapple for this misbehaviour. Please find below is the Meme that I promised to do...

Oh my! How time flies. Now I'm a grown up and in this is really a nostalgic Meme. I have many childhood memory foods but I manage to list a few of them…

Satay
I simply adore satay when I was a kid. Maybe this was because we don't get to eat this food very often. Satay was only served during special occasions like birthdays or barbecues. What attracts me most about satay is the fragrant smell of tumeric powder and the sweet taste of the grilled meat. My mom used to prepare satay at home for our own barbecues. I cherish the memories of helping my mom skewer pieces of marinated meats onto bamboo skewers and helping dad to grill the satay on a makeshift barbecue pit.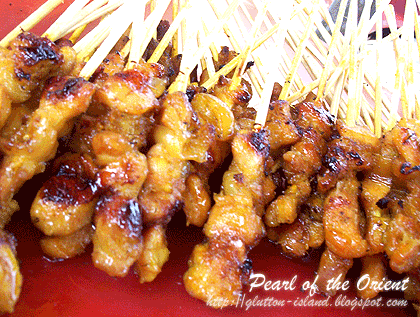 As a child, satay are irresistable!
Indomie Goreng

Indomie's Mi Goreng (fried noodles flavour) is one of my favourite instant noodles as a kid and even today. Way back then, I was really impressed on how one can actually get fried noodles just by boiling the noodles in some water, drain and mixing it with seasoning. Although there are many brands of dry style instant noodles today, I still think Indomie Goreng rules supreme in the hearts (and tummies) of many Malaysians… don't you agree?

Ice-pong or Pop-Ice
Another food I recalled eating as a child are ice-pongs or pop-ice. Ice-pongs are basically fruit juices filled into thin long plastic containers then frozen till hard. It only cost 10 cent each last time. There is a little dent in the middle of the ice-pong where you can break it in two. It's quite an economical treat. Me and my brother would often buy one and share it between us.

Ice-pong... almost every kiddy's favourite back then...
Currypuffs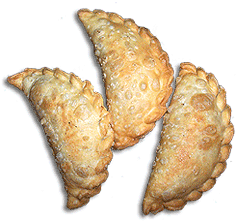 I love the
currypuffs
sold at a special stall in my hometown, Alor Setar. You can still find the stall today at Jalan Pintu Sepuluh (known as 'sin lor' in Hokkien) opposite the Sentosa shopping complex at Jalan Putra but I heard that it doesn't taste as good as it used to be. My dad used to get these for us as a supper treat. I love the taste of the curried potatoes filling inside the currypuffs. Really soft and nice in contrast to the crunchy currypuff skin or crust...
Chocolates
Chocolate is another one of my childhood favourites. I used to love chocolate covered almonds and hazelnuts a lot. As a kid, I was easily impressed by the packaging of the chocolates, especially the ones that comes in rectangular shaped tin boxes. I would eye the box from time to time like an eagle and when we have finished the chocolate, I would beg mom if I could have the box to play 'masak-masak' or keep stickers. But most of the time, mom would keep it for her own use. Maybe she finds the box attractive too ;p…
Anyway, those were the memories I had about some of my favourite childhood foods. *Sigh* I had a really nostalgic time thinking and writing all these. Once again, I would like to thank Greenapple for giving me the chance to look back in time to the food I once loved. By the way, I don't want to tag anybody this time. Instead, I'll open this Meme to volunteers. Dear bloggers out there, just let me know if you'd love take on this Meme!