You Are What You Eat Meme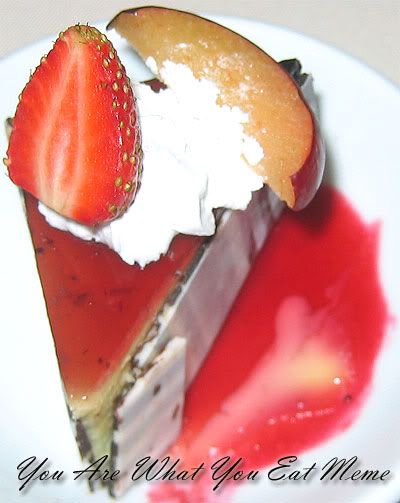 Cream colored ponies, and crisp apple strudels, doorbells and sleighbells and schnitzel with noodles. Wild geese that fly with the moon on their wings, these are a few of my favorite things…

I had been tagged by Rorie from Milk and Honey with this Meme called You Are What You Eat. In this Meme you have to list out your top 10 favourite foods. Sounds like an easy task at first glance but believe me, it's not. Many times I was in a dilemma of choosing which food like best among the many wonderful choices I had in mind. For example, I love mayonnaise. Anything with mayo makes it extra appetizing but this time I was force to leave this food out of my list because I liked others better? I don't really know. Somehow I felt a pang of guilt and felt sorry for poor mayo. I kind of imagine a little bottle of mayonnaise crying at one corner whilst I am typing this post…

Well, as much as you like it, you can't choose everyone. But if I can choose, mayo would probably end up in the 11th place in my heart where favourite food is concerned. Hope you feel better now mayo... Anyway, in order to make this Meme interesting, well start from the least to the first and off we go with the 10th most favourite food…

My 10th Most Favourite Food: Chocolate
I hadn't loved chocolate so much until just recently. I started getting hooked on Lindt, Milka, Ferrero and Ritter Sport after my recent trip to Germany. I would mostly prefer milk chocolate rather than dark or white chocolate.
My 9th Most Favourite Food: Ice cream
Ice cream is also my recent favourite. I really love the creamy ice cream served in Germany. There are so many flavours there. They even have Nuttella flavour. My favourite flavours are green tea, vanilla and butter scotch. And I love yoghurt ice cream too.
My 8th Most Favourite Food: Strawberries
I just feel happy when I look at strawberries. They are such pretty little things, don't you think so? I love the sweet fragrance of the fruit. I never fail to sniff at a box of strawberries and adore it's cuteness whenever time I pass by the fruit section of the department store.
My 7th Most Favourite Food: Cheese
I can't say no to anything with baked cheese on it. Pizza and lasagna are good examples. Sandwiches and burgers taste better with cheese and cheese cakes are simply wonderful.
My 6th Most Favourite Food: Senbei
I love the savoury taste of the shoyu (soya sauce) that goes well on the crunchy senbei (Japanese rice crackers). Even better if it comes with a piece of seaweed on top or wrapped around it. Simply irresistible!

My 5th Most Favourite Food: Chicken
If there's a choice to choose between meats like beef, lamb, venison, pork, turkey, or chicken. I'll choose chicken. You can say it's my favourite meat. I love it fried, grilled and baked.
My 4th Most Favourite Food: Seaweed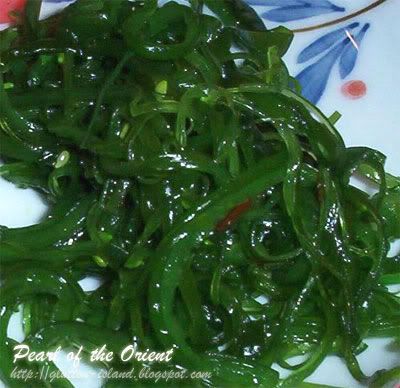 Be it nori, hijiki, wakame or any other kind of seaweed you can bet I like it. I have a special fondness for seaweed. Sometimes while walking along the beach, I see some of unrecognized species of seaweed washed up by the shore and I felt that it's such a waste. I was always tempted to bring them home to cook but the fear of being poisoned always put me off from doing such things.
3rd Most Favourite Food: Pasta & Noodles
Pasta and noodles are like brothers. I can't mention one without mentioning the other. I love the taste and texture of pasta and noodles. Spaghetti, macaroni, fussilini, vermicelli, soba, udon, ramen... the list is endless. This is a bit embarrassing but I have to admit that I actualy have asoft spot for instant noodles. They are one of my comfort foods.
2nd Most Favourite Food: Surimi

Surimi are mostly made out of process seafood. Crab filament (crab stick), fish ball and kamaboko are examples of surimi. There are so many choices of surimi lately. Although it's not really a healthy kind of food but I almost can't live without these. They taste so good in soup or even barbecued. I wonder if surimi are categorized as junk food? Uh oh, does that make me junk since this is a you are what you eat Meme : (… but who cares. I love surimi a lot – yummy : ).
My Most Favourite Food: Seafood

And finally, the fairest food of them all, seafood. Yep, I love seafood. Especially salmon, cod, tuna, prawn, fish roe (e.g. tobiko), crab (did I tell you that I'm allergic to crabs?), lobster and scallop. I love to have my salmon smoked or sashimi style with some shoyu and wasabi. I love my sushi with lots of tobiko. Another seafood that I love is bonito. Be it in flakes (katsuobushi) sprinkled on my takoyaki (Japanese grilled octopus ball) or okonomiyaki (Japanese savoury pancake), or as soup base (dashi) for my noodles, I simply adore the aroma of bonito.

So, there you have it my top 10 favourite foods. I can't say that it's a complete list because I love so many foods, but it should be a general overview or a summary of what I like most (at least for now). I would like to end this Meme by tagging some of fellow bloggers who enjoy eating as much as I do. I tag:

Boo_licious from Masak-Masak
Day-Dreamer from Thoughts & Thinking in Reality
FoodCrazee from FoodCrazee
Greenapple from My Felicity Corner
Jellyfish from Le Crappo

Hope they'll have fun doing this Meme. I can't wait to know what are their favourite foods. This'll be super interesting. I'm such a busy body sometimes… *Sings* When the dog bites, when the bee stings, when I'm feeling sad, I simply remember my favourite foods and then I won't feel so bad!