Tamarind Brasserie - Parkroyal Hotel, Batu Ferringhi Beach, Penang
After the major presentation to the big boss from Europe, all tensions were immediately released and I was really in the mood to celebrate with food. So, together with some friends and colleagues, we went to Hotel Parkroyal at Batu Ferringhi beach to have a hearty buffet dinner together.

Thursday's promotion at Tamarind Brasserie was Flavours of The Middle East, Mediterranean and South East Asia. The buffet starts from 7:00 pm to 10:30 pm. The price is RM 68.00++ for adult and RM 34.00++ for children. The spread is a vast selection of creative cuisine from Algeria, Turkey, Morocco, Spain, Italy, Malaysia, Indonesia and Singapore.

The food was really a feast to the eye as much as it was to the tummy. Unfortunately, most of my photos came out bad (due to lighting and lousy camera). I did try to use Photoshop to correct the blurred photos but it still failed quality control that I had no choice but to discard them. This will explain why there are no photos of main dishes…
Previously rated as 4 star, Park Royal Penang had recently undergone renovation and is now rated a 5 star hotel. It's really an elegant place. I love the ambience and scenery and I was really impressed with the decorations they had set up for Christmas. They even had a fake Santa paddling on a trishaw full of presents and this is so Penang! Great idea! Santa should do this more often if he's planning to shed some of those jelly…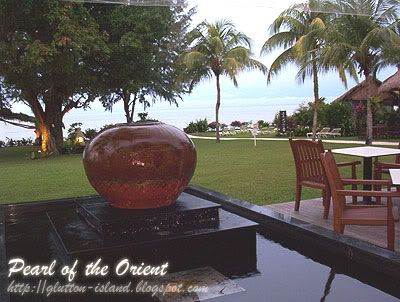 The view, looking out from Tamarind Brasserie...
The evening was spent eating, eating and eating. I was so fascinated by the appetizers that I ate more appetizers than the main dish or dessert. I also had minestrone soup, pizza, lasagna, pasta, satay, char koay teow (with large prawns), grilled prawns and salmon. Really nice. I wish I could sample every single dish they had there but my poor stomach finally surrendered after the grilled salmon. I only manage to have ice-cream for dessert. I had to forgo the other yummy desserts. Could you believe that? I was a bit disappointed with my poor planning skills but nevertheless, I had a great time…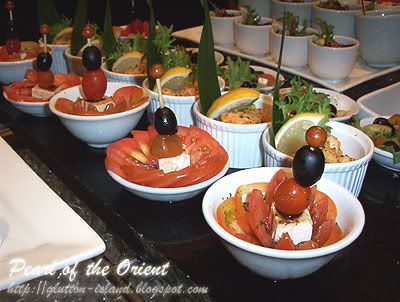 Salads and appetizers...

My platter of appetizers. From left, glass noodle salad with prawns and Thai chilli sauce, piped potatoes (some sort of Duchesse potatoes maybe?) and tuna salad...
Another appetizer, barbecued meat (char-siew) with cherry tomato salad...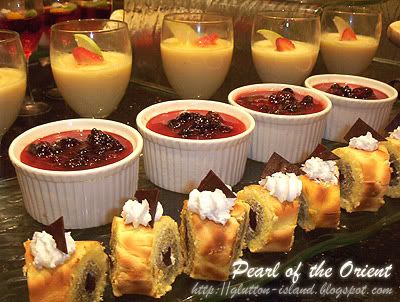 Yummy desserts! Various kinds of puddings, jellies and cakes...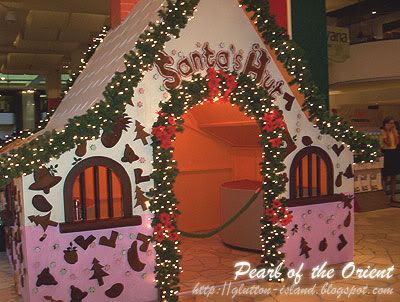 Another decor called Santa's Hut. It's a miniature house made out of polystyrene decorated with real gingerbread cookies...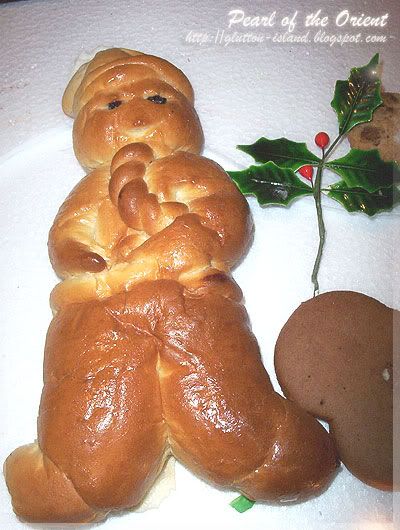 A cute little breadman, decorating the roof of Santa's Hut...
For your info, Parkroyal's Tiffin Restaurant received the Malaysia Tatler's 'Best Restaurant' award for 12 consecutive years. Do check out the place if you're interested...

Grand Plaza Parkroyal, Penang

Batu Ferringhi Beach
11100 Penang
Malaysia
Tel: +60 4 881 1133
Fax: +60 4 881 2233
E-mail: http://penang.parkroyalhotels.com/s14206/email.html or granplaza@pen.parkroyalhotels.com