Stir Fried Chinese Sausage With Pear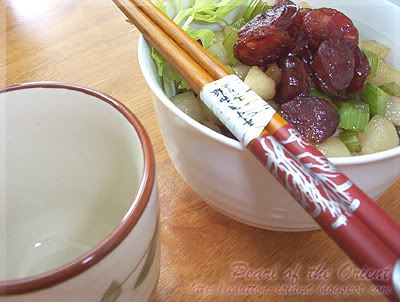 There was an interesting fruit recipe recommended by our resident chef, FoodCrazee, not long ago called 'Stir Fried Taiwanese Sausage with Pear'. I decided to give it a try as it sounded pretty simple and yet special.
The recipe mainly calls for Taiwanese sausages, snow pear, celery, sesame oil and a little seasoning. Unfortunately, I ran out of Taiwanese sausages but had plenty of Chinese sausages (lap-cheong) in the larder. So, I just altered the recipe a little by replacing Taiwanese sausages with lap-cheong. The recipe also called for snow pear, which I do not have and believe I have never seen it before in my life (maybe someone can help me?). Therefore, I also replaced this ingredient with gong pear which is found abundantly in my fridge. Just for your information, gong pear is the yellow, lightly speckled and plump and juicy type of pear.
I served the stir fry 'donburi' (Japanese term for one meal or bowl dish) style in a bowl on a bed of warm rice with a little soya sauce. The meal was quite good and the combination of textures were really interesting. The sausages were chewey, the celery crunchy and the pears soft on the outside but slighty crunchy in the inside.
My siblings, didn't want to try the dish. One of them did took a bite but decided that she didn't like the taste. So, I guess this is not a dish that everyone would like. But I like it. Before this, I didn't even know pears can be cooked as a savoury dish. But now I know. Thanks for sharing the recipe FoodCrazee!