A Quick Little Holiday Dinner
My family don't really celebrate Christmas but around this time every year, we would always 'makan-makan' (Malay word for eating) and have a good time together... This year, I promised my siblings a little 'Christmas' dinner. However, I was so caught up with work till I almost didn't have time to make the dinner, but lucky I did.
I started cooking from at around 2:30pm and completed around 6:00pm. Not bad, quite fast but I cheated by using instant foods ;p. I think my siblings didn't mind my dirty work cos they told me that they had an enjoyable meal plus they gave an overall rating of 8 over 10.
The first meal I served was cream of chicken and mushroom soup. I used Maggi's instant soup mix. Just mix the soup mix with water over fire stirring constantly until cooked. Yes, it's just as easy as that. Nothing fancy about it. It wasn't a great soup but the taste was passable...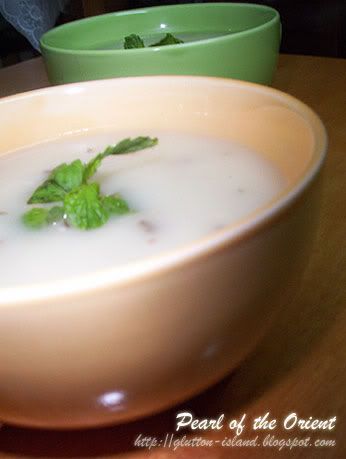 Cream of chicken and mushroom soup
To compliment the roast chicken, I served apple coleslaw. It was basically coleslaw made of shredded cabbages, onions, mayonnaise and lemon juice with and an additional flavour of apples. Crunchy and nice. Just too bad the photo turned out ugly, or else I would have posted it up.
As for the roast chicken (above photo), I really cheated this one... It was bought from our local department store. As you know, one can easily find ready to eat roast chicken from Giant or Tesco and it doesn't cost that much. To save time, I bought black pepper roasted chicken the day before and kept it in the freezer. I know this is not fresh but it taste just as good once it was re-heated in the oven. Before I popped the chicken into the oven, I also glazed on a mixture of S&W Teriyaki sauce, lemon and sugar (all boiled together into a thick syrup) to make the chicken look more glossy and appetizing.
Next on the menu was spagetthi marinara. Marinara is the seafood tomato based sauce type of spagetthi. For the sauce, I used Tesco's spaghetti sauce. I also added chopped onions, garlic, bell pepper, mushrooms, tomato puree and dried oregano to enhance the flavour of the sauce. For seafood, I mainly used canned tuna chunks and flakes and I also blanched some prawns and squids for extra topping.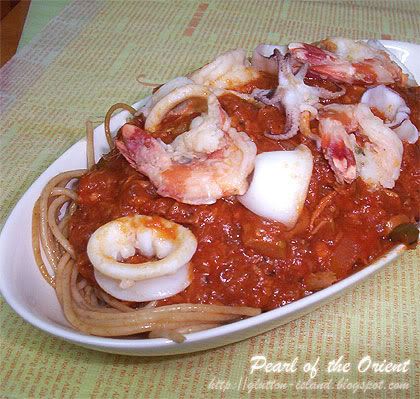 Spagetthi marinara... In this dish, I also used Tesco's whole meal spagetthi as a healthier option. Why am I mentioning Tesco so many times? Sounds like I'm really advertising for Tesco ;p...
Finally for dessert, I served coconut cream and fruit jelly or agar-agar. The jelly was made from 2 packets quick fix (Lobo's Coconut Agar Dessert and Thai Fruits Flavoured Agar Dessert respectively) which I bought from my previous trip to Hadyai, Thailand. The instructions behind the package of the fruit flavoured jelly gave a recipe which incorporated chopped local fruits like papaya, pineapple and jackfruit into the jelly. I added papaya and watermelon into mine. At first, I was a bit worried of how the fruit jelly would turn out cos it smelled like Fanta's green Fruitade or Wriggly's tutti frutti chewing gum but to my surprise it turned out very nice. The watermelon and the fruit jelly complimented each other very much and the taste was very refreshing with an intresting combination textures...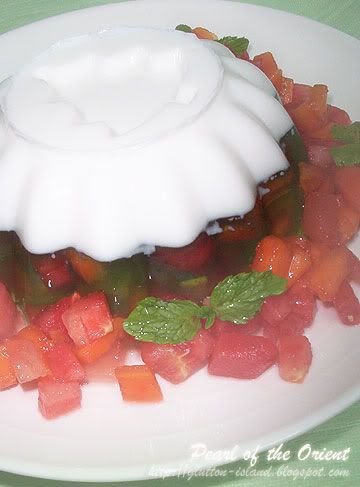 Coconut cream and fruit jelly. The coconut cream jelly was very fragrant and rich while the fruits jelly was nice and refreshing...
Overall it was a humble kind of dinner. I was a bit dissapointed but... it was still okay considering that I my siblings liked the food. Last but not least, I would also like to take this opportunity to wish all my dear readers and blogger friends...
A Blessed Christmas, Happy New Year 2006
& A Wonderful Holiday!