A Little Comfort in the Night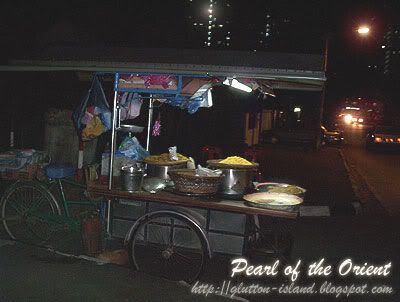 Warning: This post is a bit on the melodrama side. If you easily get sick at such things, please do not continue reading…

These few days, my little brain had been working overtime. After my presentation, I was greeted by some unexpected news. Good or bad? Well, I don't know. It was good to hear that the boss was happy with my work but because of this, more trainings, projects and challenges await me next year… which means less time for blogging and cooking… : (

I guess being a professional cook will stay as a dream for at least another few years. A lot of people ask me to pursue my dream and I would like to do it but I am not a rich Rabbit that's all I can say...

I was thinking about all these things while walking back to the car park after having dinner at some hawker stalls at Batu Lanchang. The night was really dark and quiet despite some cars passing by with headlights shining. The atmosphere really reflected my dull mood.

As I walked, I saw some fluorescent lights glowing by the corner of the street. A little cart stall was selling something outside some flats which stood behind a market. I hopped over to have a look. A lady was selling steamed ground nuts and chickpeas, which as a popular snack of yester years. I decided to buy a bag of each since it was hard to come by such stalls nowadays.

The lady at her stall selling steamed ground nuts and chickpeas...
Still gloomy, I munched on some warm chickpeas as I walked towards the car. The chickpeas were nice and soft. I decided to try some of the ground nuts. They were good too. They don't make steamed ground nuts like these anymore, I thought.


Steamed chickpeas, piled up in a mountain... healthy stuffs...
Steamed ground nuts in a basket, soft and sweet. Cost RM 2 for a bag of 'em...
I felt a bit better after snacking but I can that tell my dilemma is not over. Mood swings do effect my cooking. I can't cook when I'm feeling down… which reminds me, Virtual Blog Party is due tomorrow. Let's see how my cooking will turn out this time…