Food Tidings from Hotel Equatorial, Penang
I recieved a little Christmas card-like promotion brochure from Hotel Equatorial, Penang today. Though just a brochure, I felt really happy looking at all the gorgeous food photos and reading about the promotions. I always have a soft spot for Hotel Equatorial, a place popularly known as EQ. I guess this fondess should be due to Kampachi, the Japanese restaurant at Equatorial which I believe (and many agrees) serves the best Japanese buffet in Penang...

Flipping through the brochure, I remembered all the luxurious meals I've sampled at EQ. To me, EQ just does everything in style. I'm full of praises over this place. I may be bias, but don't take my word for it. Do try it out this Christmas or New Year to see if you agree with Rabbit ;p...

I wanted to share the nice photos and promotions with all of you because it made me so happy. So, I scanned and edited the brochure to put it up at this blog. Sorry the fonts are a bit small though...
24 DECEMBER 2005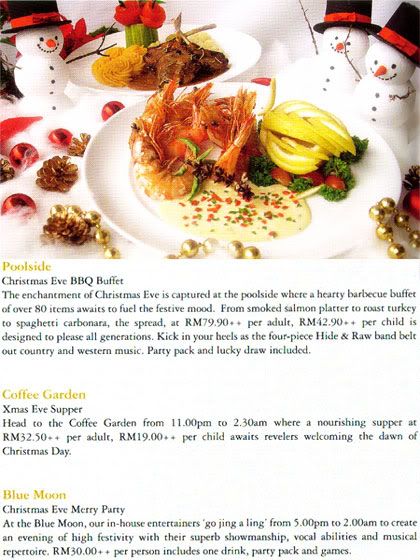 25 DECEMBER 2005



31 DECEMBER 2005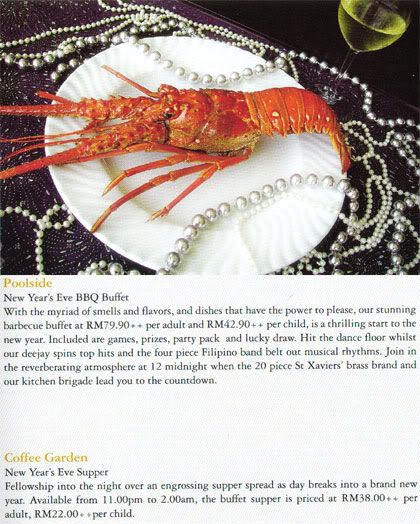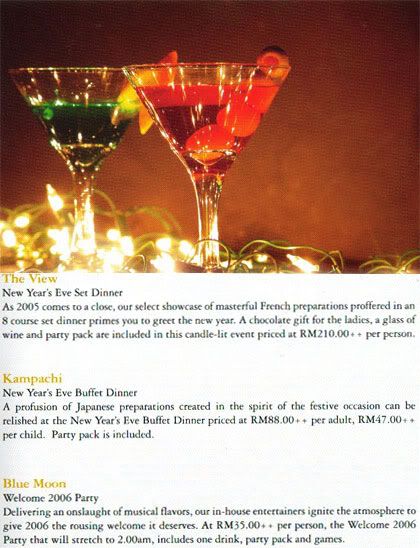 1 JANUARY 2006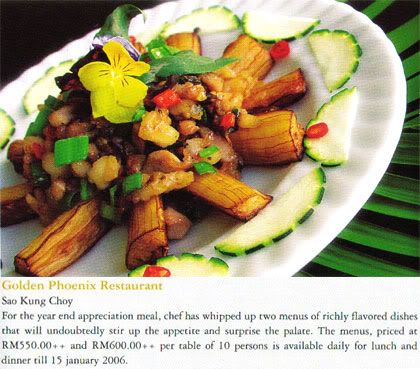 Incase you'd like to make a reservation, please call 604 - 643 81111
**Rates are subject to 10% service charge and 5% government tax

EQ's Gourmet Shop is also offering a lavish selection of delectable food gifts like chocolates, cookies, pastries, turkey and wine. Call in for further inquiries.

Hotel Equatorial, Penang
1, Jalan Bukit Jambul, Bayan Lepas,
11900 Penang, Malaysia
Tel: 604-643 81111
info@pen.equatorial.com