Blog Party #5: Vegas, Baby! - Unagi & Ebiko Sushi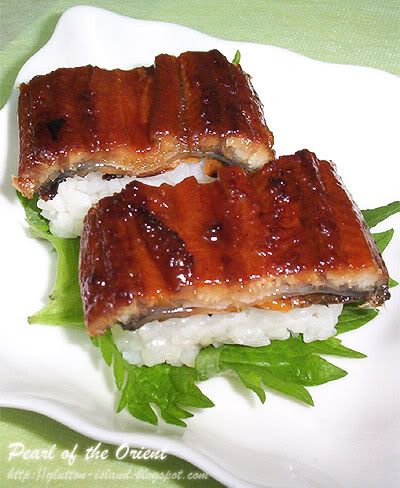 Hooray-hooray! The monthly Virtual Blog Party is here again and thanks to the ever wonderful hostess, Stephanie from Dispensing Happiness, the theme for the month of December is, 'Vegas, Baby!' or in other words, give in and indulge! What a great way to celebrate the closing of the year 2005!
At first, I couldn't decide what to indulge in. There are so many choices of rich and tempting food but finally I decided to make unagi (grilled freshwater eel - above picture) and ebiko (fish roe) sushi which are considered as rather luxurious grub over here. Happily I went shopping at Meijiya, the Japanese grocery store at Jalan Kelawei situated beside Mobile gas station. It was drizzling and there were some Japanese customers chatting away about something. For a moment, I really thought that I was in Japan.
I love to go to Meijiya. Though just a small shop, I guess it's the most comprehensive store selling Japanese food products in Penang. Japanese stuff can be really expensive, because of this, I always have to control myself from not buying too many things. So, I quickly scanned the shelfs and grab the stuffs I need, frozen unagi kabayaki, ebiko, wasabi... then I saw some something special. Shiso (perilla) leaves. I went Uwaa... this should be a cool decor for my sushi and decided to throw it into my shopping basket. The leaves cost RM 3.60 per packet and each pack contains about 12 leaves.
I also bought a bottle of Otafuku's spicy okonomiyaki sauce. It cost me RM 15.90 per bottle. Rather expensive for a bottle of sauce... Anyway, I just threw that in my basket as well cos I was playing along with the theme. Indulging and giving in to shopping. Hehe. By the way, the sushi recipe doesn't call for okonomiyaki sauce. I just bought it out of impulse... I quickly left the store after that cos I was getting really green eyed. I knew that if I've lingered any longer in the store I would have burst my pocket like a little child breaking her piggy bank to buy candy.

Coming home, I instantly started with the sushi. It's pretty easy actually. All you need to do is to prepare the sushi rice. I have the sticky rice recipe here. I would also recommend that you cook the rice according to the instructions on the package (if any) and that you cook more than a cup of rice to prevent the it from sticking to the pot.
As for the other ingredients, I used frozen unagi kabayaki and ebiko. Ebiko can be eaten as it is but the unagi needs to be re-heated. You can use an oven or microwave to do this but be sure to grease the pan cos you wouldn't want your unagi to stick to the pan now do you? To make my unagi more glossy and tasty, I brushed a bit of oil and tare (unagi kabayaki sauce) before I popped it into the oven at a low temperature of 175 celcious for 10 minutes. Also be sure to monitor your unagi from time to time. Due to the sweet sauce, it can get burnt easily and we don't want that to happen as well...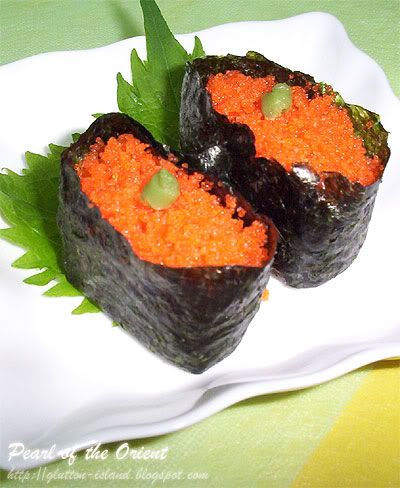 Ebiko sushi - gunkan or battleship style...
For the prepared sushi rice, wet your hands with a little water mix with vinegar. Place a large tablespoon of rice onto your palm and shape it into a long ball (like a nigiri sushi). A nigiri mould may come in handy if you're not good with your hands. Once done, just assemble everything together. Cut the unagi and place it on top of the rice ball to make unagi sushi. Cut a strip of nori seaweed, wrap it around a ball of rice and spoon in ebiko (you can use tobiko if you can't find ebiko) to make ebiko sushi - gunkan style or battleship style sushi.


To add a little festive mood into the food, I used a special nigiri mould to make these star shaped sushi...


As for cocktail drinks, I decided to make jasmine green tea with lime. It's jasmine green tea mixed with some lime juice and honey. It is very refreshing and is great for washing away any fishy after taste from the sushi.
A refreshing drink of jasmine green tea with lime...
And so, how did my siblings, the panel of food critics find the sushi? The results I got was 'oishii' and 'oishii' (oishii means delicious in Japanese) all the way. I think this is because unagi and ebiko have always been their favourite foods.