Ahn-nyong-ha-se-yo! Kimchi Anyone?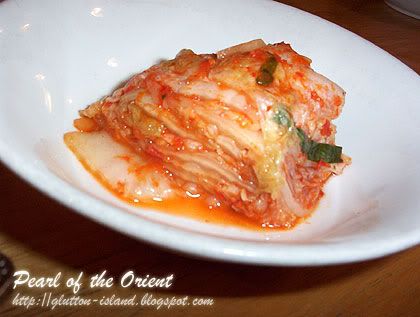 Ahn-nyong-ha-se-yo! This greeting may sound familiar to many. Korean culture has been gaining a lot of popularity since the introduction of Korean dramas and movies to the Malaysian audience a few years ago. Since then, I often wondered about Korean cuisine. Apart from
kimchi
(
fermented spciy cabbage in the above photo), kimbap (Korean version of rolled sushi) and bulgogi (Korean barbecued meat), I have no clear picture of what Koreans eat...
To be honest, I've never really tried Korean food before in my life - so does most of my friends. Therefore, to celebrate the coming new year, we decided to visit the Sam Oh Jeong Restaurant at Cantonment Road to try out the Korean food there. For who would like to visit the place but are not familiar with the area, Sam Oh Jeong is a bungalow turned restaurant and is located beside a Japanese restaurant ( I can't recall the name though). You will also see a seaside (Gurney drive) if you keep on driving until the end of Cantonment road.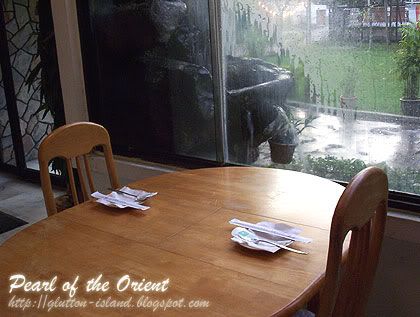 Comfy little place...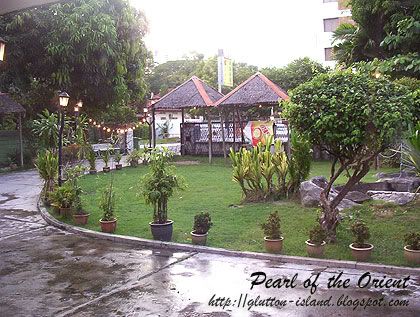 The garden outside the restaurant. Was raining that day so the driveway was wet....
Like Japanese food, you can expect Korean food to be a little pricey as well. The price of the dishes ranges between RM 10 to RM 35. The most expensive dish in the menu (excluding liqour) was kalbi gooi or barbecued beef ribs which is RM 35.
But how was the food? It's difficult to judge whether the meal was good or bad because it was the first time for us to try Korean food. I do love the kimbap and pajeon but the rest of the dishes (especially the kimchi and pickles) may need some getting used to. I was happy to try the kimchi at first. But upon putting it in my mouth, I decided that I do not like it. Maybe I'm just not the kimchi type ; p. Anyway, overall, this experience was definitely a culinary adventure for me...
The plate of fresh vegetables (salad, shiso, garlic and cucumber) are to be eaten with the barbecued dishes, while the little bowls of condiments around it are appetizers...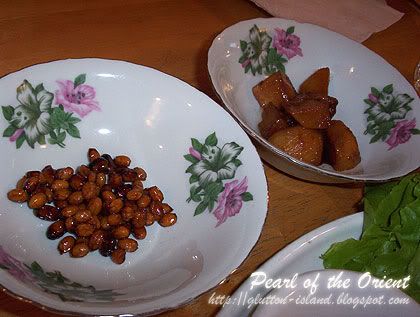 Some of the appetizers include peanuts and potatoes...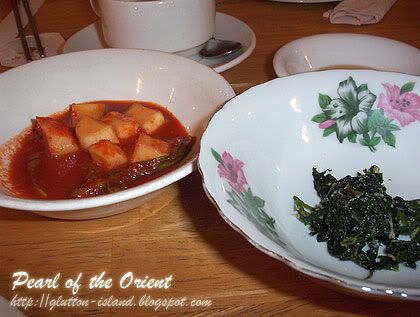 pickles and fermented vegetables...
more appetizer pickles...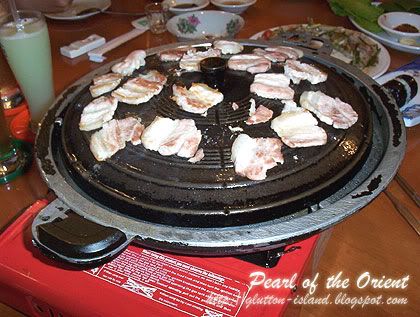 This is Korean barbequed pork, I can't remember what it was called. It had probably costed RM 30...

This is kongchi gooi or grilled mackerel pike. Costed RM 25. A bit on the fishy side though...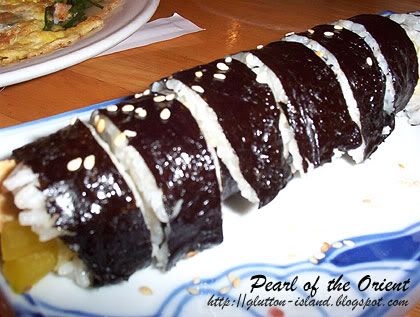 This is kimbap, which is the Korean version of sushi. This was my favourite among all dishes. It looks and taste exactly like maki sushi with a hint of sesame oil. Costed RM20 per plate...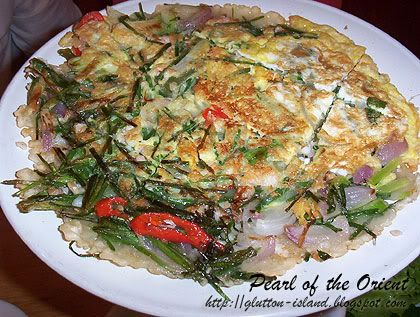 This pancake-like dish is called pajeon. Costed RM 10. It consist mostly of Whelsh onions, sliced chilies, eggs and perhaps some starch. The onions made the pancake sweet and I liked it quite a lot...
Sam ge tang (thanks FoodCrazee for the correction - hope I got the name right this time) is the Korean ginseng chicken soup. Like our Chinese herbal soup, they also used 'kampung' (village) chicken and in this dish, the whole bird was stuffed (like a turkey) with Korean ginseng, glutinous rice, dates and chestnut and boiled for 12 hours until cooked. Costed RM 30 per bowl. Tasted quite nice but could've been better if the soup had a stronger aroma of ginseng in it...

Sam Oh Jeong Restaurant
No. 64, Cantonment Road, Penang