Western Food at Chef's Delights, Pulau Tikus, Penang
If you're desperately craving for Western food but do not want to burn a hole in your pocket, do not despair, Chef's Delights is the place to run to. Located in a 'kopitiam' (Hokkien term for coffee shop) called Sin Hup Aun, beside the Pulau Tikus market, Chef Delights serves a variety of popular hawker style Western food including chicken chop, pork chop, fish and chips, chicken Maryland chicken cordon bleu, steaks, grills, burgers and soups.


In my opinion, Chef's Delights is one of the best place in Penang to enjoy hawker style Western food simply because the price is very reasonable, the serving is generous (especially the pork chop) and the taste is quite good. For your info, a plate of chicken or pork chop costs only RM 5.50 and I usually dare not order the pork chop because the serving is too big. So I guess, I'll recommend pork chop to those with a big appetite!
Pork chop at only RM 5.50. I couldn'd believe my eyes when I saw the serving size. This stuff is awesome!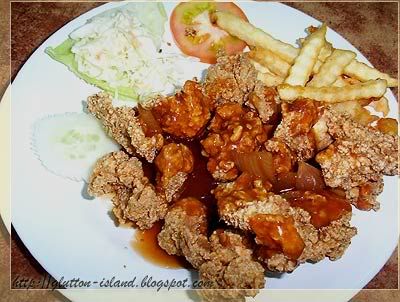 This is Chef's Special - which is basically chicken fillets fried in batter. I love this cos it's so easy to eat (no bones)! I would also like to recommend the weekend special (which is only available on weekends) whereby the sauce is sweet and spicy. Really delicious!
Fish and Chips. I guess this may be a good choice for those who would prefer something on the lighter side...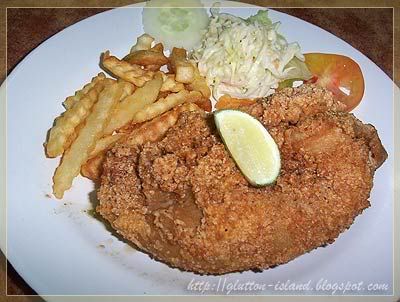 Chicken cordon bleu. The chicken fillet is stuffed with ham and cheese then coated with breadcrumb and deepfried till golden brown. Not bad...
Apart from Western food, there are also other hawker foods available in the kopitiam such as Jones Street's mamak style 'mee goreng' (fried noodle) and 'mee basah' (noodles in thick and spicy gravy), Chinese stir fried noodles and rice dishes, putu mayam, tom yam spaghetti, 'wet style' pohpiah, sushi – yes, sushi and others. Hawker style sushi is definitely not common in Penang. The sushi looks quite good, so I may like try this on my next trip there. It should also be noted that some stalls only operate in the morning while others in the afternoon or evening.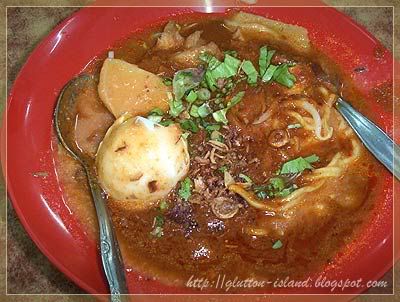 Famous Jones Street 'mee basah'. I saw many customers ordering this, so I decided to try. It was actually quite good...
My mother loves the 'char hor fun' from the evening session's Chinese stir fried noodle and rice stall...
Another piece of info that is worth mentioning is about the kopitiam owner's son. He happens to be Adrian Ang, the famous and talented bowler from Penang. I came to know about it through the interesting exhibit of trophies, medals and news paper clippings at the back of the koptiam. Well, it looks like the kopitiam certainly have another thing to shout about besides great Western food!

Chef's Delights open daily from 12:00pm - 2:30pm and from 6:30pm - 10:30pm. They also offer catering services and you may contact Mr David Tan at 016-455 2286 or 017-552 2286 for further information if you're interested...