Sweet Potato 'Onde-onde'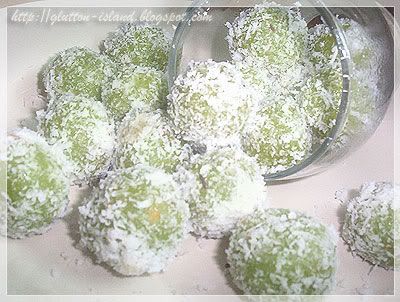 When I get into one of my cooking frenzies I often end up buying things I do not need. For example, a couple of days ago, I was shocked to find some sweet potatoes in my kitchen. I could not recall why I bought these sweet potatoes as I did not have any special recipe in mind. Anyway, the sweet potatoes look like they've been in my kitchen for sometime and I had better do something about it before it's too late…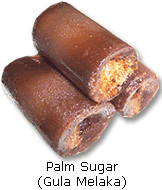 Also coincidentally, prior to this incident, I chanced upon some 'gula melaka' or palm sugar in the fridge. It was a gift from a colleague who visited his hometown in Malacca. It was a good thing that I spotted it or else it would have rotted in the fridge. I can't remember when exactly did my colleague passed me the sugar, but if memory serves me right, in was last year! I accidentally found the thing while searching for some carrots in the crisper. It was wrapped in a green plastic bag and cleverly buried under a pile of vegetables. It's a lucky thing that sugar can keep for a long time or else I would have found clump of mould or something squishy! Ew…

By the way, palm sugar or 'gula melaka' (which is a Malay word - literally translated as 'Malacca sugar') is made from the boiled down sap of the coconut tree. It has a pleasant fragrance and is dark brown in colour. Palm sugar are usually found in form of cylinders or flat round cakes. I would say that the taste is quite similar to coarse brown sugar.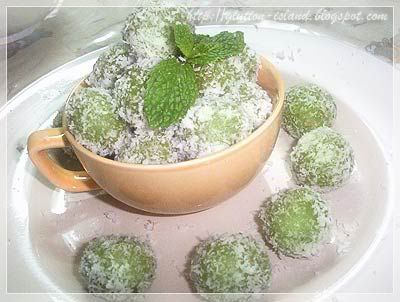 So, with these two ingredients, I decided to make sweet potato 'onde-onde'. Onde-onde, which is sometimes known as 'buah melaka', is a kind of 'kuih' (local snack or dessert). It is green and round like little ball coated with freshly shredded coconut. The texture is soft chewy with palm sugar syrup inside. You can get onde-onde at any kuih stall, but it is not common to find ones made with sweet potatoes. The ones at the kuih stall is mostly made of glutinous rice flour. juice from the 'pandan' or screw pine leave is often added for a pleasant fragrant.

Somehow, I think that Japanese would love onde-onde very much or at least taste familiar to them. Hey Rabbit! How can you say such a thing like that? Well, Japanese do use 'mochiko' (glutinous rice flour) in making their desserts. So, I think onde-onde may strike them as some kind of 'dango' (dumpling).

Sweet Potato Onde-onde Recipe

2 large sweet potatoes (steamed, peeled and mashed)
250g glutinous rice flour
150ml warm water
A few drops of green colouring

Filling:
3 cakes gula melaka (crushed) - you may use brown sugar if this is unavailable
2 tablespoon castor sugar

Coating:
1 coconut (grated, white part only)
Pinch of salt

Mix well mashed potatoes, rice flour and food colouring. Add water gradually till a fairly stiff dough is obtained. Knead well. Divide dough into small equal portions. Form into balls.

Make a well in the centre. Spoon in filling ingredients. Seal the hole and reshape the balls. Put a few balls into boiling water. When balls float to the surface, remove and roll in coating ingredients. Serve cold.

As usual, my cooking show will always end with tasting and judgment from the panel of food critics, my siblings. And the verdict was a mixed of opinions. One of my siblings would prefer if I had done the conventional onde-onde (the one without sweet potato) due to the reason that she disliked sweet potatoes. Others agreed that the onde-onde was a bit on the soft side but the taste is still nice. Actually, I was short on flour, so I kind of compromised the recipe a little. I guess the onde-onde would have been firmer if I added in more flour….