My Curry Puff and Me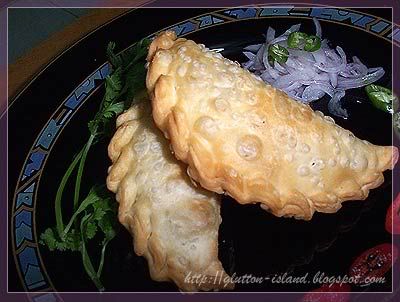 I recently bought a recipe book on making 'kuih' (local snacks or desserts) called "Minuman Petang" (translated as "Afternoon Tea") written by Sa'adiah Mohamad. The book is written in Malay and featured 48 types of sweet and savoury kuih recipes.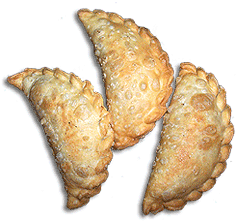 After flipping through the book, I decided to make 'karipap' or curry puffs, which is a very popular anytime snack in Malaysia. Although today we find many variations of curry puff – some with different styles of pastry or some with different kinds of filling - the standard or conventional curry puff is basically made of deep fried pastry with curry potato filling.

Whenever, I make curry puffs, I would remember my childhood days of playing 'masak-masak' (Malay word for cooking) with my siblings.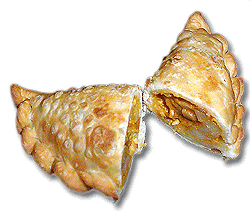 We used to roll out some 'plasticine' (the Play Dough of our time) and pleat it into little curry puffs. We would then place the curry puffs on plastic toy plates and pretend to have tea. It was an interesting game to play since we were not yet old enough to be in the kitchen to do real cooking…
Anyway, thanks to my masak-masak lessons, I am now able to pleat nice curry puffs. But, sad to say, today, this skill is actually not necessary anymore with the advent of curry puff moulds. The curry puff mould is a simple yet clever invention. Just roll out the dough and leave the rest to the mould! It makes perfectly shaped curry puff every time and twice as fast!

In this recipe, I decided to do it manually, that's because I couldn't find my curry puff mould from the kitchen closet. Rats! Wonder where it had disappeared to? In this attempt, I also decided only to follow Sa'adiah's curry puff 'skin' (pastry) recipe. The curry potato filling is my own recipe. As a suggestion, you can use other filling for the curry puff such as sardines in tomato sauce, ground peanuts and sugar, spicy coconut filling or anything else that you fancy. By the way, my choosy eating siblings really loved the curry puffs I made. So this is how the recipe goes… enjoy!

Curry Puff Recipe
(yields approx 1 dozen medium sized curry puffs)
Pastry

250gm plain flour
60gm melted margarine
80 - 90ml water mixed with ½ teaspoon of salt

Filling
2 cups of potatoes (cubed, boiled and drained)
1 cup of cubed chicken flesh
½ cup of mince onion
4 – 5 tablespoon curry powder
½ cup coconut milk or milk
2 tablespoon butter
Salt to taste

Method:
In a large bowl, combine flour and margarine. Add in water a little at a time and knead until dough becomes smooth and pliable. Leave it for 10 - 15 minutes then, with a rolling pin, roll out the dough into a thin sheet (0.5cm). Using a round cookie cutter, cut the dough into circles and place a little filling in the middle. Fold over and pleat the ends of the pastry to seal in the filling. Deep fry curry puffs until golden.

For the filling, heat a pan and sauté the onions in the butter until soft. Add in chicken and curry powder and fry until fragrant. Finally, add in potatoes, milk, seasonings and cook until thick.