Joint SHF/IMBB - Virtual Cookie Swap: Gingerbread Teddies on the Loose
It's that time of the month again where food bloggers from all over the globe crack their little heads to whip up something special in the kitchen to post it up in blogsphere. In conjunction with the festive season, IMBB and SHF join hands this month to create special food blog event to remember with a theme called Virtual Cookie-Swap!

But that's not all folks, as I've said, this time is extra special! 12 lucky winners will walk away with a cool cookie book called "The Cookie Sutra" (complimentary of the event) – so, you can bet that everybody's working overtime in their kitchen to win this. A big thanks to the host and hostess, Alberto from Il Forno and Jennifer from Domestic Goddess, for organizing and sponsoring this wonderful event.


My entry for this month is the traditional favourite, Gingerbread Cookies and it was a recipe from my cooking textbook, On Cooking (by Sarah R. Labensky and Alan M. Hause). The recipe was rather easy to follow. I didn't have any trouble mixing the dough but challenge came when I wanted to shape the cookies. Firstly, I didn't have a bear-shaped cookie cutter and I had to make do with a bear-shaped jelly mould. Secondly, to make matters worse, my cookie dough came out a bit too soft (even after refrigeration) to hold the shape of the bear and it broke into pieces when I wanted to transfer it to the baking tray.

Arghh! I got a bit frustrated with the dough and re-checked the recipe to see if I've gone wrong with the ingredients or steps. But as far as I can see, I didn't make any mistakes and finally decided that most likely fault lies in the molasses. Honestly, I am not too familiar with this ingredient. I bought a couple of pre-packed ones labeled 'molasses - 120 grams' (but no with no further info) from a cake supply shop at our local market. I've never seen or handled them before in my life… so I guess it could be due to the wrong type of molasses. I don't know, maybe some expert can impart some knowledge about molasses?

I decided to fold in a bit more flour into the dough to make if firmer. Then, with great care and delicateness I managed to shape the bears and successfully transfer it onto the baking tray. Phew! What a relief, I thought the ordeal was over but to my horror, when the bears came out of the oven, they were glued to the baking sheets! Luckily, I've managed to remove them from the baking sheet with a sharp knife. I was extra careful with the next few batches. I've made sure to generously grease the baking sheet with butter and dusted it with a bit of flour to keep the cookies from sticking…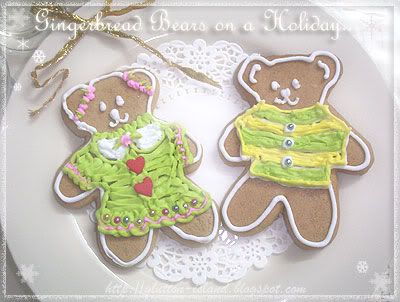 Two little gingerbread bears dressed in their holiday outfit. Oh! They're going on a trip to somewhere special to celebrate Christmas. He is wearing a green and yellow striped polo shirt while she is dressed in a feminine green frock with lovely pink roses and heart shaped buttons...
It was midnight when I finally iced the gingerbread bears with royal icing. I've completed my mission around 2:30 am in the morning and went off to work like a zombie the next day. But overall, I would say the hard work was worth it as the bears did turn out great. My siblings and especially my mom really admired them and were rather reluctant to eat them as they were too cute. When they finally did eat them, I had feedback that the taste was really good...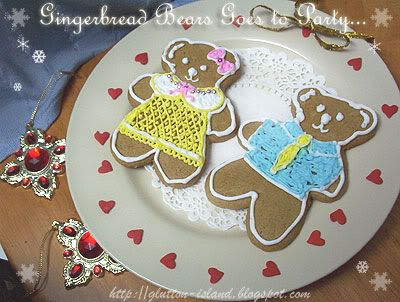 Another gingerbread couple all ready for party time. He is sporting a formal blue shirt with a yellow tie, while she, an elegant yellow dress with pink ribbons and pearls...
Anyway, if you're wondering, I decided to make gingerbread bears in couples (instead of the usual gingerbread man) as I thought it would be very symbolic since this is a joint event. I made a boy bear and a girl bear to represent each event. Hope you like the cookies! If you'd like to make them too, here's the recipe!

Gingerbread Cookies
(Yields approx 1 dozen)

120 g Unsalted butter, softened
120 g Brown sugar
180 g Molasses
1 Egg
360 g All-purpose flour
1 tsp Baking soda
1/2 tsp Salt
2 tsp Ginger
1 tsp Cinnamon
1/2 tsp Nutmeg
1/2 tsp Clove

Method:
Cream the butter and sugar until light and fluffy. Add molasses and egg and beat to blend well; set aside.

Stir together the flour, baking soda, salt, ginger, cinnamon, nutmeg and cloves. Gradually add the flour mixture to the butter mixture, beating till just blended. Gather the dough into a ball and wrap in plastic wrap; refrigerate at least 1 hour.

On a lightly floured board, roll out the gingerbread to a thickness of 1/4 inch (6 millimeters). Cut out the cookies with floured cutter and transfer to greased baking sheets.

Bake at 325°F (160°C) until the cookies are lightly browned around the edges and feel barely firm when touched, approximately 10 minutes. Transfer to wire racks to cool. Decorate as desired with Royal Icing.

Royal Icing
(Yields 180 g)

180 g Powdered sugar
1 Egg white
1/4 tsp Lemon juice

Method:
Sift the sugar and set aside. Place the egg white and lemon juice in a stainless steel bowl. Add 120 grams of sugar and beat with an electric mixer or metal spoon until blended. The mixture should fall from a spoon in heavy globs. If it pours, it is too thin and will need the remaining 60 grams of sugar.

Once the consistency is correct, continue beating for 3 - 4 minutes. The icing should be white, smooth and thick enough to hold a stiff peak. Food colouring paste can be added at this time if desired. Cover the icing with a damp towel and plastic wrap to prevent it from hardening.
Tagged with: Cookie-Swap