Hay! Hay! It's Donna Day! - Self Frosting Cupcakes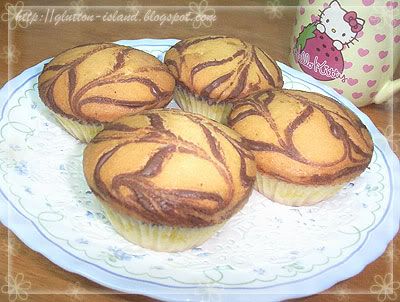 Hay! Hay! It's Donna Day! Today marks the first event of Donna Day and I have obediently baked some Self Frosting Cupcakes according to instructions – well, maybe not so obedient - but I'll explain later on. First of all, I think you might curious about who is Donna? Donna Hay (her full name), is a famous cook and food stylist from land of down under. She has her own magazine and also wrote a bunch of cook books which were sold around the world.



So I guess she's a world famous person. Hadn't heard of her before? Me too, I just knew about Donna (a week ago) through Nic's eloquent description about her… But wait a sec Donna fans, don't get upset with me! Not knowing Donna doesn't mean I don't like her. Sure I like Donna! I like anyone who's into cooking. Especially those who do it so well like Donna. Anyway, I would like to thank Donna Hay for the lovely Self Frosting Cupcake recipe, Babara from winosandfoodies for being the hostess of this chic event, and last but not least, Nic from bakingsheet for introducing Donna to us and also for providing the Nutella Frosting Cupcake Recipe (which is the theme of the event) for our reference. Thanks everyone!

Well, the reason why this cupcake is 'self frosting' is because it has a baked-in frosting. I think this self-frosting concept is very clever. It saves one the trouble of frosting the cupcake and it looks just as pretty. It is also a lot less messy, so, I must agree that these cupcakes are very ideal for picnics, lunches, outings, traveling or such like events.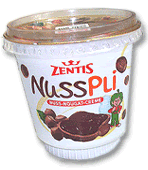 In addition, these cupcakes are so delicious! And I've made mine with German 'Nutella'… what in the world?! Calm down, calm down dear Donna fans, please, allow me to explain. I bought a couple of 'Nutella' like products in my last trip to Germany. The stuff is called Nusspli, Nuss Naugat Crème made by Franz Zentis Gmbh & Co. It is also made of Halzelnut and chocolate cream, so I thought why waste money to buy another jar Nutella when I have a couple of Nuspli in my cupboard. Also, I am still a bit broke after coming back from the Germany trip this summer so using Nusspli in this recipe seem only reasonable… you wouldn't have the heart to be angry with a financially impaired Rabbit, would you? *sob* (melodramatic music playing in the background)...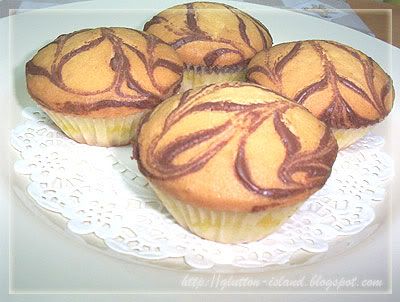 Anyway, on with the story! Prior to baking the cupcakes, I spooned some Nusspli into a piping bag and piped on some straight lines. With a bamboo stick (the ones used for skewering satay), I swirled the lines into designs and pop the cupcakes into the oven. At the end of the day, I was satisfied with the results and was also happy that my finicky eating siblings had liked the cupcakes. But one sad thing though, I don't think I can call it Nutella Frosted Cupcakes. In my case, it should be called Nusspli Frosted Cupcakes instead…. that is unless, we want to play pretend ;p…