Guten Tag! Ich bin Glutton Rabbit und das ist Spaghetti Bolognaise!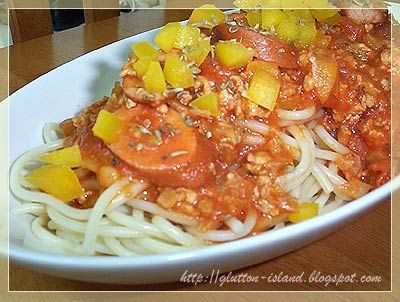 Did I tell you that I was in Germany this summer? Too bad I hadn't started my blog yet at that time or I would've been trigger happy with my camera shooting at all the German food that comes my way. I do have a few shots in my collection, perhaps will share them with you next time…


OK, so the Rabbit's been to Deutchland… Big deal So what? Do you know that she was just on a job assignment and not tourism? And by the way, can you tell me what has Germany got to do with spaghetti bolognaise? Please explain… Well, Italian food is rather popular in Germany and I love the pasta they served over there. I frequented a couple of Italian restaurants over there and oh my! Such lovely pasta they serve, I just fell in love at first bite…
Then, on my last day in Germany, on the morning before I took off on the airplane, I went shopping at a grocery store called Netto. And if it weren't for luggage space, I would have bought the whole store back to Penang.
The first thing that caught my attention were instant fixes (or instant mix). I thought it was a good idea to bring some of it home since they are very light and compact. Then, like a mad bunny, I just grabbed as much instant fix that I could. Spaghetti, chilli, lasagna, soups, pudding and whatever I could get my hands on.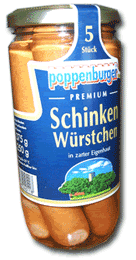 The prices of these fixes are rather cheap as well. The ones I bought cost only 40 cents to 1 Euro. I had a hard time deciding on what to buy and what not to buy. I also grabbed some cooking chocolate along the way but decided to put it back like a good bunny because it was too bulky and heavy - a decision which I regret until today…

And so, with the instant fix that flew back with me from Germany, I present to you today, spaghetti bolognaise!!! And to go with the spaghetti, I also added some imported sausages from a glass bottle (air flown from Germany) for extra bite and flavour.

And what was the verdict? Simply AWESOME! My fussy eating siblings quickly swallowed down the whole pot of spaghetti and it vanished like magic within an hour! They also congratulated me for my good cooking. I just love pasta… it makes me feel so wanted… By the way, if you're wondering why my bolognaise sauce is lighter in colour, it is because I use pork instead of beef.

My reading adventures on "On Cooking" will be up next. I found the first chapter to be rather interesting. It's about the origin of Restaurants. Stay around if you want to find out more!