Ganache Accident Results Mouse Cake & Raspberry Jello (GA = MC + RJ)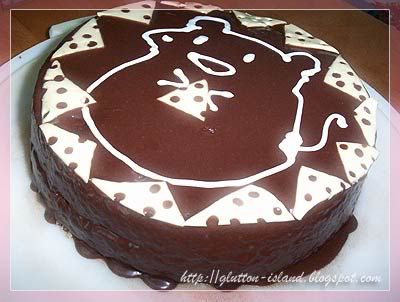 I had been a bit obsessed with dark chocolate after participating in last month's Sugar High Friday event (SHF #13 – Welcome to the dark side: Dark Chocolate theme). My entry was called, Chocolate Praline Cookies with Gummy Bears, which is a recipe by Alexander Goh with a little cute twist of Gummy Bears from Glutton Rabbit.

Right after the SHF, I bought another bar of cooking chocolate for 'playing' purposes but could not decide on what to cook until I came across an interesting ganache recipe by Alex Goh in his book called 'Temptation of Chocolates'. This ganache recipe calls for milk instead of heavy or whip cream. Creams can be rather pricey, so I thought this was a clever recipe. I finally decided to bake a spongecake and frost it with milk ganache – as belated or rather overdue birthday present for my cute little sister who loves cheese.

By the way, for those are not so familiar with ganache, here is the description by 'Own Cooking' (my main reference)…

"Ganache is a blend of chocolate and cream. It may also include butter, liquour or other flavourings. Any bittersweet, semisweet or dark chocolate may be used… Depending on its consistency, ganache may be used as a filling, frosting or glaze type coating on cakes or pastries. The ratio of chocolate to cream determines how thick the cooled ganache will be. Equal parts of chocolate and cream are best for frostings…"

So this is what I did with my 200 gram bar of Van Houten (100% Cocoa Butter, Belgian Chocolate Recipe, Delicious Even As It Is) cooking chocolate. Sad to say, a mishap happened during my cooking endeavor. For your info, the original recipe called for 500 gram of chocolate and I only had 200 gram. Due to miscalculation or something (did I ever tell you that I was poor in mathematics?), I screw up the whole recipe by adding too much milk into the ganache…

What could be worse? The spongecake baked and ready, just waiting to be iced but the ganache was too runny. I tried to salvage the ganache by adding some powdered sugar. The consistency did become thicker (in sort of an unnatural way), but I wonder if this stuff can still qualify as a ganache after being added with so much powdered sugar? Any experts out there who can advise?

Having done this, I quickly iced and decorated the cake with a simple mouse cartoon and some cheese. It was a consolation that my little sister did like the cake very much – this was because she has a soft spot for mouse and cheese - but the other siblings complained about the spongecake being to soggy… whoops… I guess powdered sugar didn't really help...

After icing the whole cake, I still had some leftover ganache. I didn't want to waste the thing so I bought a packet of Lady's Choice Raspberry Jelly Crystal and made a dessert out of it. In a tall glass I poured in alternative layers of ganache and raspberry jelly. The dessert was chilled and served with whip cream, wafer rolls and chocolate peices. Tasted quite good, but the ganache was a slighty on the grainy side...


Overall, I would say that, the whole experience was rather discouraging. I somehow wished that the ganache had came out fine. But, as the saying goes practice makes perfect. Wish me luck in my future efforts…