'Chang' Shop at Cintra Street, Penang
'Bak chang' or 'chang' is basically a triangular shaped dumpling made of glutinous rice, with filling of pork, shiitake mushrooms, chestnut and salted duck egg yolk all wrapped in bamboo leaves. Depending on style of cooking from one place to another, the filling may sometimes include additional goodies like dried shrimps, split mung beans and 'rempah' (spicy coconut filling).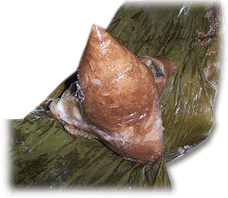 There is also an interesting story behind it as well. It was believed to be eaten in remembrance of the death of China's well-known poet, Qu Yuan who drowned himself in the Miluo river (central Hunan Province) in 221 B.C. after falling under the influence of corrupt ministers. The locals at that time dropped 'chang' into the river to prevent fishes from eating his body. Hence, this was made into a festival, known as the Dumpling Festival and celebrated by Chinese on every 5th day of the 5th month according to the Chinese lunar calendar. During this festival, chang is being sold and eaten extensively by Chinese people.


Today, chang has become a popular food and to be eaten not only during the festival but at anytime. You can easily find it at Chinese kuih stalls in Penang throughout the year. Chang is also a very convenient one course meal. One can eat it without using any utensils. The bamboo leaves is to prevent the dumpling from sticking to your fingers. This dumpling kind of reminds me of the Japanese 'onigiri' or rice balls with filling wrapped in seaweed, which is also eaten with bare hands. Don't you agree?


Cintra Food Corner at Cintra Street, Penang
There is a certain shop at Cintra Street, Penang, by the name of Cintra Food Corner, which is famous for 'bak chang' and Cantonese 'tau chang'. Tau chang is literally translated as bean dumpling ('tau' means beans). In tau chang, split mung beans are added into the glutinous rice. The result is a pale looking dumpling with a rich and creamy taste of beans. The filling of tau chang is a standard fare consisting of pork, mushroom, chestnut and salted duck egg yolk.

Nowadays it is very hard to find tau chang because people don't make them anymore – I wonder why? Some don't even know that tau chang ever exist. In my knowledge, so far in Penang, tau chang is only available at Cintra Street. So, please share with me if you happen to know of any other places besides Cintra Street that sells tau chang!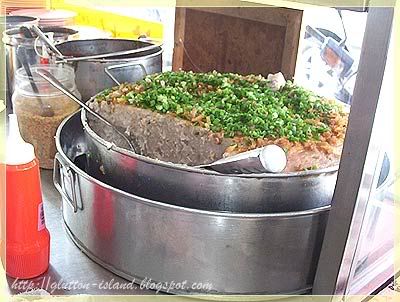 'Or kueh' or savoury steamed yam cakes ready to be cut and sold
Apart from chang, Cintra Food Corner also sells nice 'or kueh' (steamed yam cakes). For those who are interested to visit this place, Cintra Street is located in town area (Georgetown) not far away from KOMTAR. It is a very well known street with pre-war and old time shop houses. Just ask around for directions and you'll get there.
Oops! Almost forgot to mention (thanks Doc for reminding me!), this place also sells huge RM 5 bak chang with double yolk (and additional filling) to satisfy your big bak chang cravings as well as red bean dessert for your little sweet tooth. Dr Chen's from Ramblings also visited Cintra Food Corner not too long ago and she has some scrumptious photos to share. So, head over to her site to have a look!