SHF #13 - The Dark Side: Chocolate Praline Cookies with Gummy Bears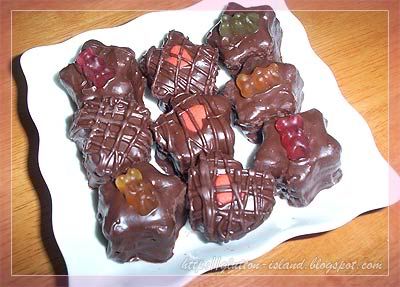 Kelli from
Lovescool
is hosting this time's
Sugar High Friday (SHF #13)
. SHF first started in October 2004, by Jennifer from The Domestic Goddess. It is an international sweet tooth blogging event and this month marks the anniversary SHF. Happy Birthday Sugar High Friday! Thanks again to Kelli for being this month's hostess and for choosing such a meaningful theme - dark chocolate (to commemorate the first SHF which is white chocolate).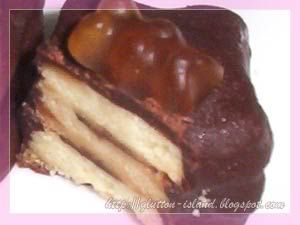 This is my first SHF and I'm pretty excited to participate. I delved into my mother's recipe book collection and found this recipe called 'Chocolate Praline Cookies' created by Alexander Goh, a local baking consultant from Baker's Joy Patisserie. So, thought of giving this recipe a cute twist by adding gummy bears as a delicious decor.
I learned a valuable lesson from this time's SHF. I always took it for granted that all dark coloured cooking chocolate are dark chocolate. But I was wrong when I did a search on the Internet. According to Wikipedia dark chocolate is defined as:
"Chocolate without milk as an additive, sometimes called plain chocolate. The US Government calls this Sweet Chocolate, and requires a 15% concentration of chocolate liquor. European rules specify a minimum of 35% cocoa solids. "

And I must confess that I found out about this after I made the cookies! All I can say is that I was a pretty ignorant Rabbit. After buying 2 bars of cooking chocolate, I straightaway teared open the packaging and started melting it without even studying the percentage of the cocoa in the chocolate. I sure hope the chocolate I used in this recipe fits the defined minimum requirement of being a dark choco....
Anyway, here's the recipe. The recipe's divided into 2 parts. The first part is to make the cookies and the second part is to assemble and decorate the cookies with melted chocolate. It may take a while to make these but I enjoyed the whole process ; )

(This recipe makes approx. 3 dozen)
125gm butter
60gm confectioner's or icing sugar
1/2 tablespoon milk powder
Part 1: Making the cookies


Cream butter, icing sugar and salt lightly. Add in eggs and cream till smooth. Add in ground almonds, sifted flour, milk powder and mix till well blended. Allow the pastry to rest for 5 minutes. Roll out pastry to about 5mm thick and cut with small cookie cutters. Bake on a lined tray, in a preheated oven at 190 celcius for approx 10 minutes.
Part 2: Assembling and decorating the cookies with chocolate
Melt the chocolate over a double boiler. Fill some melted chocolate into a greaseproof piping bag. Sandwich 3 pieces of cookies with the melted chocolate and allow to set. Coat the cookies with melted dark chocolate and decorate with gummy bears or other ingredients as desired (e.g. nuts, fruits or candy - as you can see from the above photo, I also used sugar hearts). Place the completed chocolate praline cookies in the fridge for about 3 minutes to allow it to set.
Finally, my post is never complete without a taste test from the panel of fussy eating judges a.k.a my siblings. And the score is a 6 out of 10 points. Comments were, the cookie part needed a bit more flavour. For improvement, they suggested adding orange juice or zest to the cookies because orange and dark chocolate makes a good combination.