Ramadhan Bazaar - Stadium Darulaman, Alor Setar
I was visiting a relative in Alor Setar, the capital of Kedah today. So, I decided to take the opportunity to visit the famous Ramadhan bazaar at Stadium Darulaman in the late afternoon. There were plenty of choices of food to choose from. There were the standard stuffs that every bazaar would have like satay, kebab, murtabak, nasi lemak and others but I was really delighted with the assortment of kuih (local snack or dessert) that was sold there....
Above is 'kuih sago'. It is made from cooked sago (moulded, set and sliced) coated with grated coconut. The bright red comes from added colouring and there is also a green variety of kuih sago...


'Tepung pelita' taste is similar to agar-agar. It consist of two layers, white (coconut milk) and green (screwpine) held in a little container made of screwpine leaves.

Above is an assortment of sweet kuih. Top left is 'kuih lapis' and top right is agar-agar. I do not really know the names of the ones at the bottom though... too bad ;(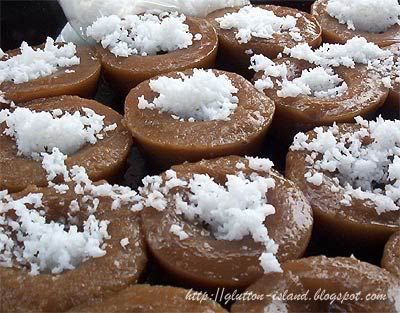 These little brown cups are called 'kuih kosui'. They are made from brown sugar, rice and tapoica flour. These steamed cakes have chewy consistancy and is usually served with grated coconut...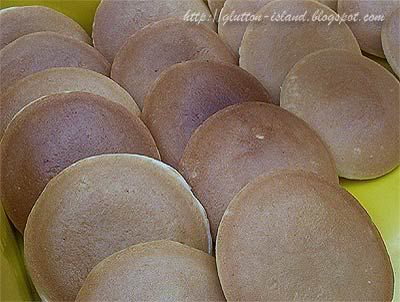 And what a pleasant surprise to find these at the bazaar! They are Japanese pancakes called 'Dorayaki' which is made popular by the cartoon Doraemon. They had four flavours, red bean, pineapple, corn and 'kaya' (coconut custard) - I bought them all. But the taste is slightly similar to buns... I think the must have used bread flour in their recipe...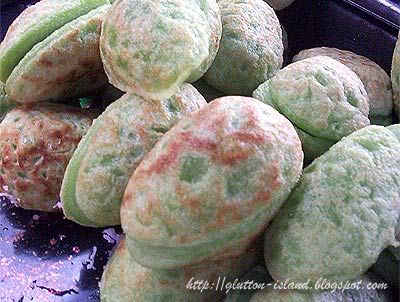 Sweet 'kuih cara'. It is actually grilled batter with sugar syrup filling. I love these
so much when I was a kid....


Savoury 'kuih cara' with meat and dried prawn filling. Hmm, this kuih kind of reminds me of of 'takoyaki', Japanese octopus balls. Probably it's due to the reason that both are grilled batter with savoury filling...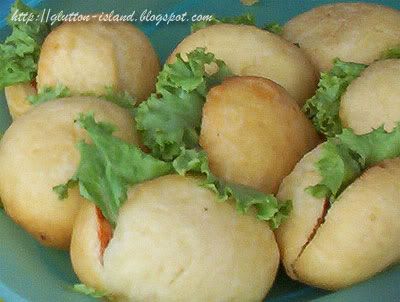 Aha! My highschool favourite! We would buy them from the school canteen. I do not know the name for this kuih but my classmates used to call it 'burger'. It's kind of like a fried doughnut sliced open and stuffed with a slice of cucumber and 'sambal ikan bilis' (spicy anchovies) or sardin flakes in tomato sauce...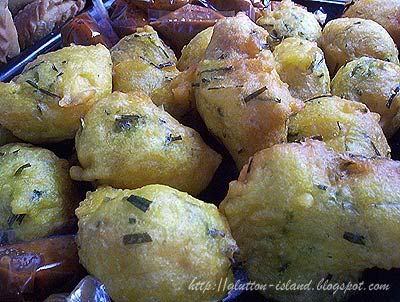 These are a kind of 'cucur' (fritter), but I cannot identify whether it is 'cucur jagung' (corn fritter) or 'cucur udang' (prawn fritter). It is to be eaten with spicy peanut sauce, so I think most likely it is a kind of cucur udang...


Now this is a strange kuih. You don't see this everyday. The kuih seller told me that these are called 'apom puri' (not sure of the spelling). The outside is a fluffy pancake and the filling is 'kaya' (coconut custard)...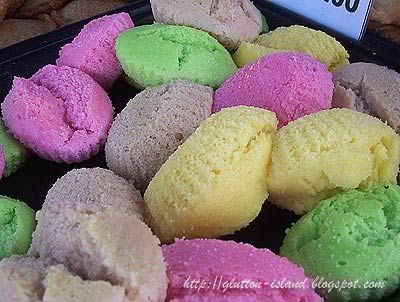 So colourful and cute! I just had to take a photo of it. 'Apam' and it is a very common chinese cake eaten mostly during festivals....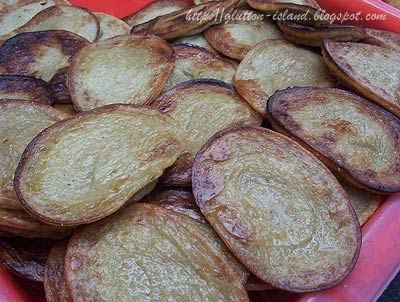 'Akok' is the name of this kuih. My first time seeing and tasting this kuih. At first I thought they were fried brinjal slices ;p. It is basically made of rice flour and coconut milk...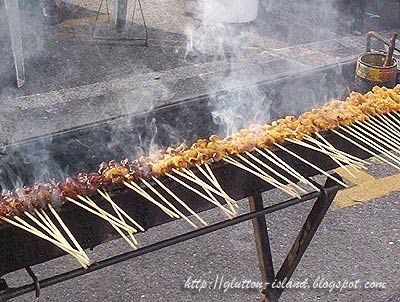 Satay! The ever popular Malaysian dish. Don't you think the arrangement of the satay on the grill makes it look like a piano keyboard? Only 25 cents per stick. Music to my tummy....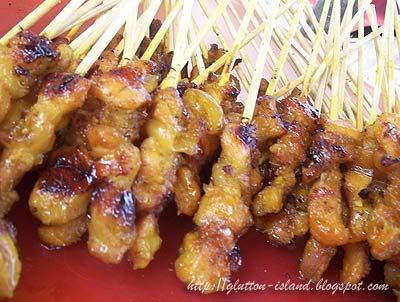 We have, chicken satay...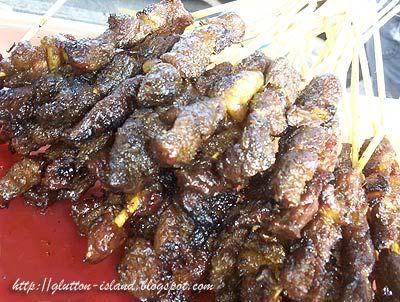 And beef satay... Just dip it in spicy peanut sauce and enjoy!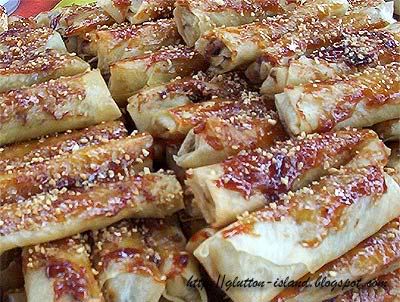 Fried spring rolls with chilli sauce. It's Malay style fried pohpiah and it taste really great. I used to be addicted to them during college days...


These banana leaf parcels are 'otak-otak'. It is fish in savoury spicy custard. But be careful, not all banana leaf parcels you find at kuih stalls are otak-otak. There are many other types of kuih wrap in banana leaf which may look like otak-otak but are not...
You're looking at the ingredients at a 'lincikang' stall. Lincikang is a kind of dessert drink with lychees, sago, agar-agar cubes, nuts, barley, bassil seeds and many others. The base of the drink is made from dried longan. Lincikang a very popular Chinese 'tong sui'...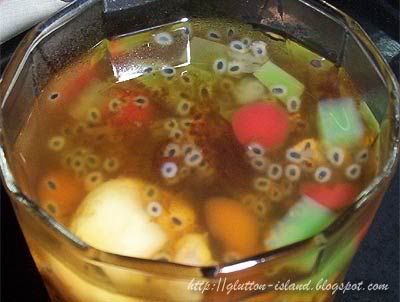 Lincikang drink at close up view. The stuff that look like frog eggs are bassil seeds. Hope you're not too gross out with this drink because of it. Bassil seeds are good for cooling down your body...
F&N or Coca-cola? Nope! It's the local made Rassa brand soda drinks...


Sorry, these are not edible, they are firecrackers! For a kid, Hari Raya (Muslim celebration after the fasting month) is not complete without playing firecrackers. Apart from the food I saw, I was happy to see these too cos it reminded me of childhood. Maybe it's not a bad idea to get some Pop-pop...
Masak-masak has more awesome photos taken at the Ramadhan bazaar in the place where she lives. Here are the links if you're interested:
Ramadan Bazaar - Kampung Kerinchi, Kuala Lumpur
Ramadan Bazaar - Kampung Baru, KL (Part 1)
Ramadan Bazaar - Kampung Baru, KL (Part 2)
Ramadan Bazaar - Taman Tun Dr Ismail, Kuala Lumpur
Ramadan Bazaar - Bangsar, Kuala Lumpur
Ramadan Bazaar - Section 17, Petaling Jaya
Ramadan Bazaar - Section 14, Petaling Jaya