Ramadhan Bazaar - Queen Street, Penang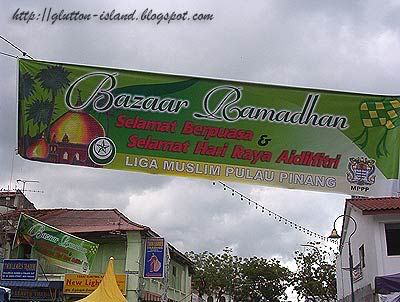 As mentioned in my previous post, while visiting Little India at King Street, Penang, I bumped into another pleasant surprise. While strolling around King Street, a big green banner with the words "Ramadhan Bazaar" written on it caught my attention. Without much thought (that I hadn't even completed my culinary adventure in Little India…), I excitedly walked into the connecting lane called Queen Street. It did occur to my mind that whether these two street names were given on purpose. Honestly, I do not know. One is King Street and the other is Queen Street, such a coincidence that both street are just next to each other…

Anyway, the Ramadhan bazaar at Queen Street was rather interesting. Most of the stalls there were owned by 'mamak' (Malay word for Indian Muslims) and the food variety is more towards Indian influence such as putu mayung, passembur, murtabak, chapati and a large assortment of Indian 'kuih' (snacks or desserts) and sweets. In addition, there were also the usual Malay fare like Malay kuih, nasi lemak, fried chicken and other dishes. I really bought a lot of kuih and muruku that day. I ate so much that I blew my calories and daren't take any dinner that day...


Thinly rolled dough, fried till crispy and drizzled with sugar syrup. The stall owner told me that the name of this Indian kuih is called 'sweet puri' - that is, if I didn't hear wrongly because the man had a deep Indian accent...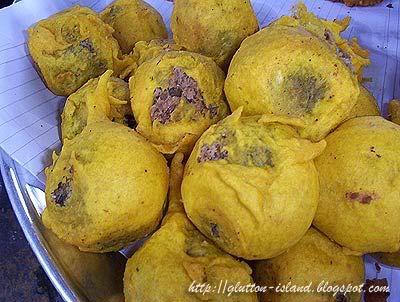 I do not know the name of this Indian kuih. It is basically
deep fried red bean paste in batter...
I forgot what is the name of these kuih. It looks like brown doughnuts yes? The colour is probably due to brown sugar as part of it's ingredient. I do know whether this kuih is of Indian origin but I saw it at the Indian kuih stall....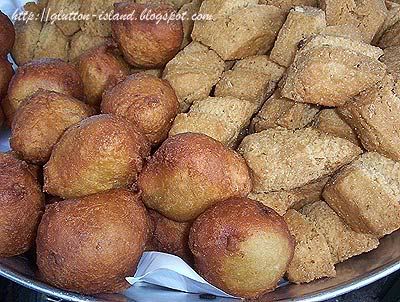 More deep fried Indian kuih. I really have no idea what
these are but they look really yummy...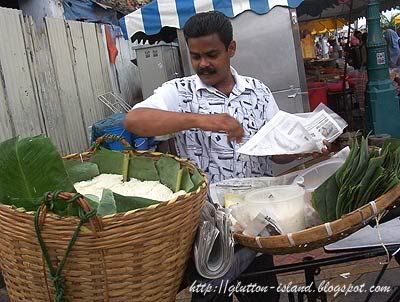 'Putu mayung' man in action. He sells putu mayung on a bicycle!


Putu mayung lin a big basket on the back seat of his bicycle. It looks very much like vermicelli. It is made of rice flour. It taste kind of bland but goes very well with brown sugar and grated coconut...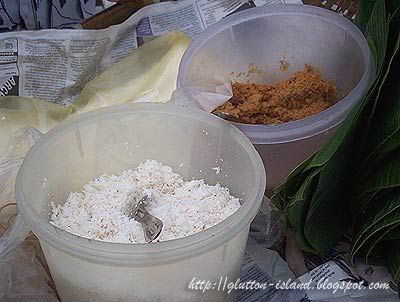 Grated coconut and brown sugar to go with putu mayung balanced on a basket cover on the front seat of the man's bicycle...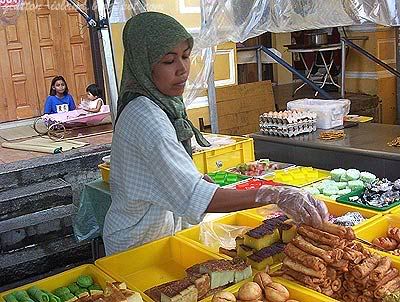 This Malay lady's kuih looks so tempting, I just had to buy some.
'Acar' (pickled vegetables) sold in little plastic containers.
This is green kuih is called 'kuih ketayap'. It is basically pancake
with sweet coconut filling wrapped up in spring roll style..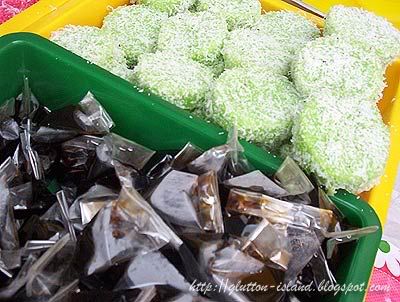 'Kuih lopis' which is green glutinous rice cakes covered with grated
coconut served with palm sugar syrup (the one in packets)...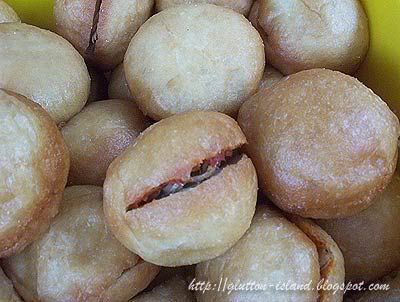 This is 'kuih burger'. It is basically fried dough sliced open like a burger
bun and stuffed spicy anchovies... my favourite!


This is 'kuih hotdog' ;p. This must be a contemporary creation. It is
fried dough stuffed with hotdog and drizzled with chilli sauce...
'Cucur badak' is made of sweet potatoes with spicy coconut filling. They are shaped intp a flat ball, decorated with a little prawn and deep fried...
'Abuk-abuk' are steamed chewey rice cakes with sweet peanut filling
and dusted with flour on the outside...

Agar-agar jelly in bright traffic light colours...
I must admit that this is a rather late Ramadhan bazaar post. This will definitely be the last one from me until next year. To end this post I would to link to Masak-masak's the last two Ramadhan bazaar visits. There're really awesome:
Ramadan Bazaar - Shah Alam Stadium
Ramadan Bazaar - Kelana Jaya, Petaling Jaya