Morning Market - Simpang Kuala, Alor Setar
Another place that I've visited in Alor Setar during the recent weekend was the Simpang Kuala morning market. My brother had an appointment there and while waiting for him, I went strolling around the area with my little camera.
Looking around, I thought to myself, Simpang Kuala sure has changed a lot since to five or six years ago. The place used to be an undeveloped area of squatter houses and flats but today it has been transformed into a modern shoplot area with restaurants, gymns, boutiques and others. Mom used to mention that back in her time, Simpang Kuala area has been notorious for bad hats (Simpang Kuala folks please do not be offended). But I don't know, it sounds hard to believe because things have changed now because the place look so different...
There is a wet market at Simpang Kuala selling vegetables, fruits, meat and fish and beside the wet market building is the 'pasar pagi' or morning market. The morning market sells all kinds of goods like bags, clothes, fruits, flowers, kitchen accessories, hair accessories and the like. It is very similar to the 'pasar malam' (night market) except that everything is being set up in the morning instead.
Anyway, I had a great time hopping from stall to stall...
Above are 'petai' pods hanging down in bunches waiting to be bought. Petai is a kind of bean. It is eaten fresh with 'sambal belacan' (pounded chillies and prawn paste) or cooked. To some, petai is very appetizing. But some may not like petai because of it's distinctive smell. I've also read somewhere that petai is suppose to be good for health...


Yam shoots... I've never seen these before in my life. You can still see yam sticking at the end of shoots. I don't know how these are suppose to be cooked. Mom told me she'd seen her mother (a Nonya influenced lady) cooked it with 'assam pedas' (a spicy sour soup with fish)...
The long green sticks you see here are 'daun palas'. It's a kind of leave used to wrap the 'ketupat' or 'tupat' (glutinous rice cake). When cooked, the leave will turn yellow...
A Chinese aunty selling flowers. She's busy wrapping up some flowers in newspapers...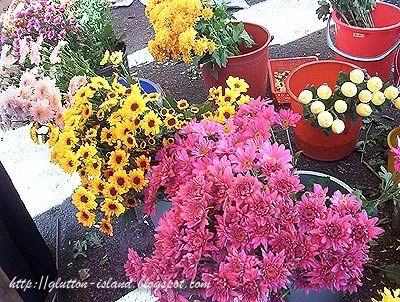 More colourful flowers...
There was man selling potted plants and I took this picture at his stall. I forgot the names of these pretty flowers. I saw them at Cameron Highlands before. Aren't they lovely?
A stall selling cockles, 'lala' (small kind of shellfish) and 'balitong' (cone shape shell fish)...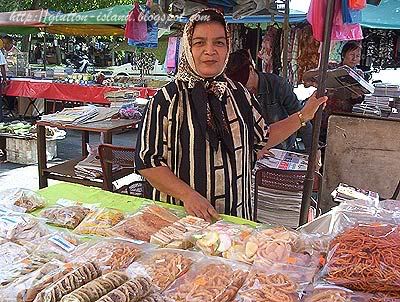 A local 'makcik' (aunty or middle age lady) posing with her merchandise. She sells local made snacks for a living...
Various kinds of Malay snacks which is probably supplied by some local cottage industry...


This is called 'kuih bunga', literally translated as flower snack (cos it looks like a flower). It it sweet and crunchy with a light coconut-ish fragrance. It is very popular during the Chinese new year celebration...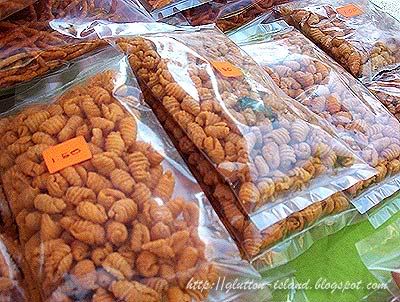 This is 'kuih siput', literally translated as snail or shell snacks (cos it looks like a snail or sea shell). It is crunchy and spicy. The siput are shaped by rolling it on a grooved board then fried. I made this before and it was very tiring because you need to shape one little siput at a time... And boy! You can eat a handful of them in a munch... talk about hard work!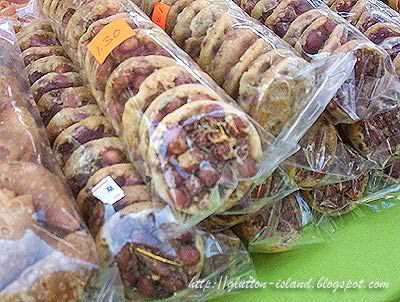 These crunchy little things are called 'rempenyek'. It is a savoury snack. It is basically batter shaped into a saucer, decorated with peanuts and anchovies then fried till crispy. They're really brittle. The ones you see are mini ones, it's usually larger...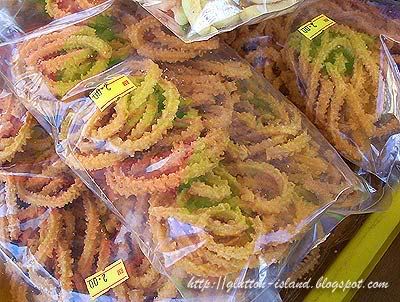 'Muruku' is the name of this snack. It a very popular Indian snack. The taste is slightly spicy and crunchy. A very popular snack during Deepavali (Indian festival)....
There was a stall selling colourful woven bags. I was almost tempted to get one of these. They're really pretty...
This stall sells 'baju kurung' and 'baju kebaya' (Malay costume for ladies)...
Before I left the market I saw this cute 'cheong-sam' (Chinese costume) like dress for children. For a moment, my mind was tricked into thinking that Chinese new year must be around the corner (because it is very popular for children to wear traditional costume during that time of the year). But anyway, I guess this should be some kind of a fashion trend or for those who would like to prepare Chinese new year a little bit earlier than others...