Deepavali Mood in Little India at King Street, Penang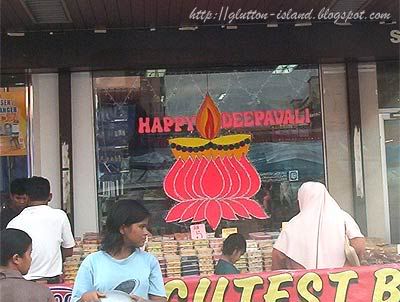 "Mysorpak! Mysorpak!!..." the little Indian boy manning the sweet stall repeatedly yelled out to me with his finger pointing to a kind of Indian sweet hoping that I could understand him. He had been very patient with me when I asked him what is this and that at his little stall. We communicated in English and Malay but I could not catch his words due to his deep Indian accent. I was really sheepish when I had to ask him to repeat everything over and over again… This was the scenario I encountered at the Little India in King Street, Penang last weekend.

This year, Deepavali, which is a festival celebrated by Indians and Hindus, falls on the 1st of November. So it was no surprise that the place was bustling with people, mostly Indians buying goodies, clothes and other festive needs to get ready for the big day.

Honestly, it wasn't in my weekend agenda to visit Little India. I was actually planning to stay at home all day to make soufflés for IMBB #20 (an international blog cooking event). But somehow, I couldn't contain myself when I saw such beautiful photos taken by Masak-masak at the Little India in Klang and Brickfields.

So, I decided to drop by King Street to have a look for myself what the Little India in Penang had to offer. It was in the late afternoon when I visited the place. Many stalls were setup along the road and I've never seen so much Indian food, clothes and decorations before in my life. The air was filled with Indian tunes and everything about the place was definitely implying that Deepavali was around the corner.

After a little stroll, I was particularly drawn to a little stall selling various types of Indian sweets and snacks whereby I had a brief conversation with the little Indian boy about his merchandise. It was so interesting to see so many colourful and curious kinds of sweets. I wondered what each of them was made of that I decided to strike up a conversation with the boy.

The boy was very pleasant and good natured but oh! I had such a hard time comprehending his speech. Every word he spoke sounded almost Indian to me. Well, come to think of it, it wasn't much of a conversation at all. Most of time, I had to ask him to repeat what he just said. After going on with this for several rounds, I decided to buy some muruku (Indian snack), thank the boy and leave…The muruku were nice and crunchy, they were imported from India.

The photos below were taken at this boy's stall. I would like to apologize if I there's not much description about the sweets or if I get the names of the sweet wrongly. My knowledge about Indian sweets is almost zero and I always have trouble remembering their names. Dear Indian folks, please don't get me wrong, I love your sweets, it's just that the names are so hard to remember…
A big block of 'halwa' cut into four...


I think it's made of some kind of flour and ghee. It taste very sweet
and nice. I ate these before when I was a kid but I do not know what
they're called. if you know the name of this sweet, please let me
know...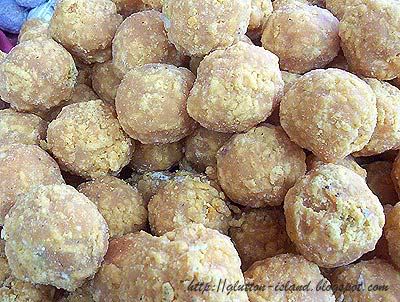 These roundies are called 'ladu'...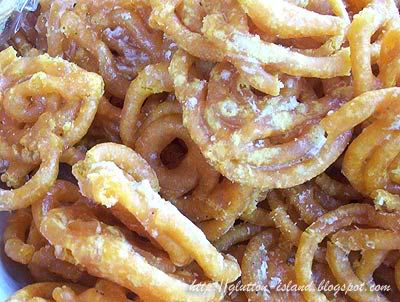 These sweet spirals are called 'jelebi'
These cubes are some kind of milk fugde called 'paklova'...




These are called 'mysorpak'... they look like brown paklova to me..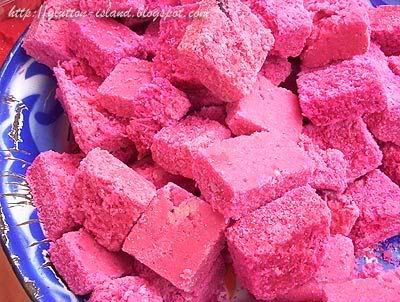 Another kind of candy. Very bright pink in colour...


This snack looks similar to Twisties...;p. I saw it sold in
supermarkets by the name of 'pagoda'. It's crunchy, spicy
and can be a little hard to bite...
This is a flat kind of muruku. Very nice and tasty...
Boxes of cookies to entertain visiting relatives and guests on Deepavali day...
More cookies to fatten up your relatives and guest on Deepavali...
If you're interested about Indian sweets and sights, I would like to recommend you to visit Masak-masak's great coverage about Little India in Klang and Brickfields. Believe me, you don't have to fly to India see so much sweets. Everything is just a click away:
Deepavali - Brickfields
Deepavali - Little India, Klang (Part 1)
Deepavali - Little India, Klang (Part 2)
Deepavali - Little India, Klang (Part 3)
One more thing, while strolling around Little India, I bump into another pleasant surprise. Adjoining Little India was a Ramadhan bazaar at Queen Street! Double happiness for my tummy! I gladly walked over to see what this bazaar had to offer. I will cover about this in my next post!