8-Row, BBQ and Steamboat Restaurant
Lats Friday, I was at 8-Row, a BBQ and steamboat restaurant in Georgetown, for a farewell dinner of one of our colleagues. BBQ and steamboat restaurants have been a growing trend in Penang since a few years back. From my observation, this kind of dining is especially popular among youths due to 3 main reasons that is price, quantity and fun.
The price is very reasonable, usually ranges from RM 15 to RM20 per person. The food is buffet style so one eat as much as they like. Choices include a variety of seafood, meat, processed food (e.g. surimi, fish cakes, fish ball.. etc) and vegies. All you need to do it to throw them into a pot of stock or grill them to perfection! So fun! What's more fun is that, after the event, you don't have to clean up the whole mess that you and your friends make. That is why today, people are opting for these kind of places instead of organizing a steamboat or BBQ party at home. It really saves all the hassle and pain...
I would rate 8-Row as one of the top 3 in Penang for BBQ and steamboat hangouts. The price is very reasonable, only RM15 and choices of food are very good as there are a lot of varieties to choose from. As for environment, the restaurant is a renovated pre-war heritage building and is equipt with some kind of cooler for outdoor BBQ and steamboat. Overall, it is rather comfortable but dress easy, as you know BBQ can get really messy...

8-Row opens in the evening. As for directions, if you are coming from KOMTAR, turn into Macallister Road and upon reaching the Agora hotel, turn into the left lane. You will see a row of renovated old buildings painted in bright yellow. 8-Row is the first one that you'll pass by. I do not currently have the address and contact number for this place but I'll update this post by this week...


8-Row signboard in front of the restaurant....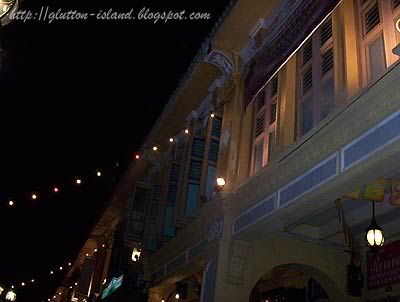 Renovated pre-war heritage building, well-litted with lights creates a unique experience BBQ or steamboat experience...
Understand that previously, the place was called Jolly BBQ and Steamboat (as you can see, the sign is still on the building). Perhaps the place has changed to a new owner, I am not sure about this...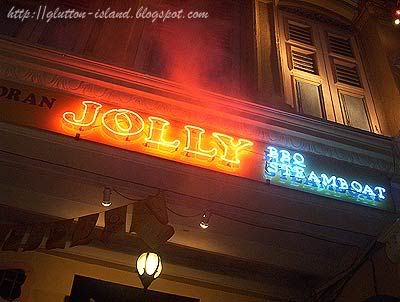 Cooling mist is sprayed out of the building to cool down the outdoor customers....
At the entrance of the restaurant. As you can see, the place has an antique ambience. The feeling is reallt unique....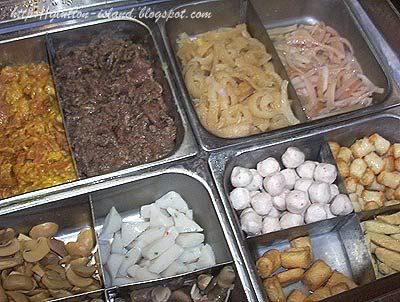 A variety of marinated meats, seafood and fish balls for you to choose...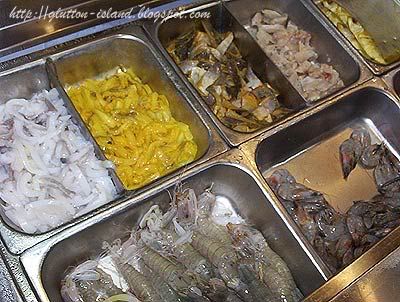 Squids, prawns, mantis prawn and fish...


Surimi, fish balls, fish cakes, chicken nuggets, sui-kow and the like...
More fish balls and fish cakes... I really love these stuff!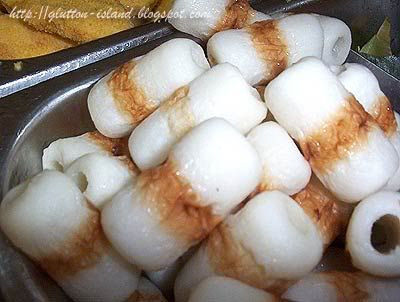 Chikuwa fish cake.... Japanese love these...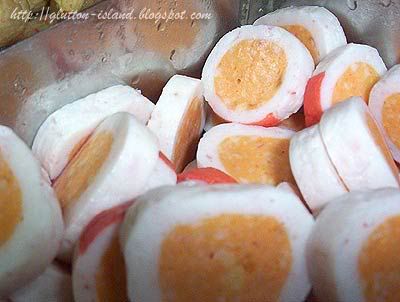 Interesting coloured fish cake...


Aha! These are really cute - bear or cartoon shaped fish cake. One of my colleague asked me to watch him while he bites of the ears this creature - as if I would scream or shudder in horror...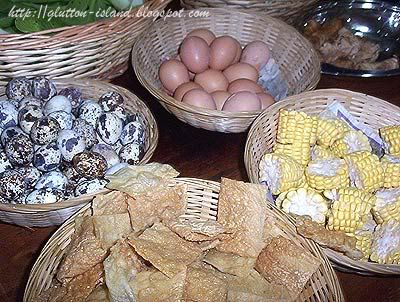 Other goodies for your BBQ or Steamboat... eggs, corn and crunchy beancurd skin...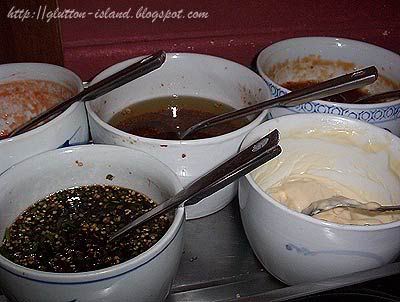 Ring of condiments to dip your cooked food in... bird eye chillies in soya sauce, mayonnaise, chilli sauce, and garlic oil (this is to enhance the steamboat stock)...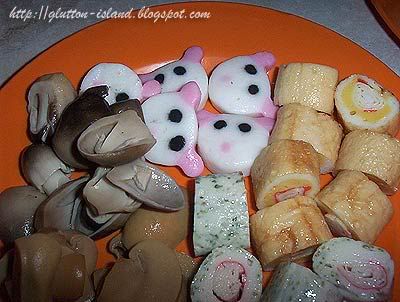 Just grab a plate and load it with goodies...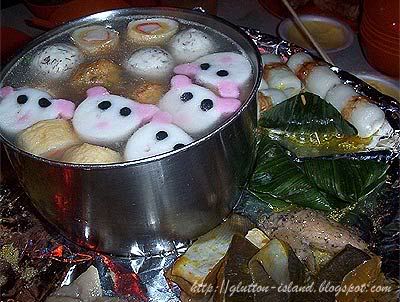 In you go into the boiling pot or BBQ my little foodies... the bear faced fish cake looks a little comical yes?


There are also some ready to eat foods while waiting for the foodies to cook... This is fried potato wedges drizzled with mayonnaise...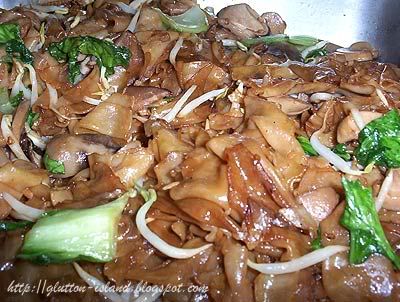 Fried 'fried hor-fun'... all ready to eat, you don't have to cook these...


As for dessert, popsicle is served. Perfect for cooling down the heatiness of the BBQ and steamboat...


More popsicle... just help yourself to as many as you can stomach...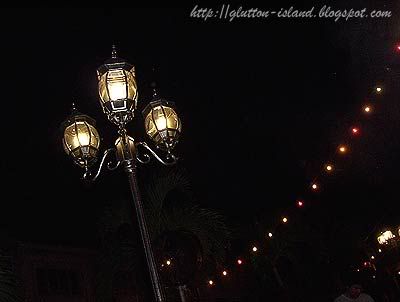 I am sometimes a melodramatic Rabbit... so, I am writting the ending of this post in this direction. I hope it doesn't spoil your appetite. If you're easily upset by melodramatic stuff, please skip this part....

I guess my colleague had a nice farewell that evening. It wasn't a tearful farewell but a cheery one. We laughed joked and laughed so hard that evening. Perhaps my colleague has found better prospects elsewhere. Best wishes to you dear colleague, wishing you a better job and a better future... Staring up into the dark sky amidst the sound of merry making, I longed in my heart for my dream to come true one day...