Mango Pudding & A Rabbit's Resolution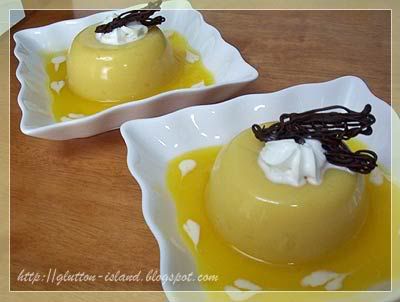 I was extra 'rajin' (Malay word for hardworking) yesterday and decided to make mango pudding for tea-time snack. There were ample mango puree left after making the pudding, I decided to cook a fruit sauce to go with the pudding. One thing lead to another, I suddenly found myself melting chocolate and piping out designs onto a plastic sheet then assembling the whole pudding, sauce and chocolate into a yummy looking masterpeice... the only let down was that the mango pudding didn't taste as great as I wanted it to be....


Gazing at my finished artwork, I thought to myself, you have a long way to go Rabbit. There is so much yet for you to learn about cooking and baking. I always dream about how nice it would be if my job was to do with cooking and baking! All my life I studied about bits and bytes. So, if I really wanted to change my expertise it would be very tough...
Turning my eyes away from the pudding onto the bookshelf, I saw the cooking book called, "On Cooking" written by Sarah R. Labensky and Alan M. Hause. The book was given by an uncle who once worked in a sausage factory. I understood that some cooking schools use this book as a textbook reference. Then, I thought again, since you like cooking so much, why don't you do a self study and see how everything goes? - or see if you still like cooking that much after this lesson... who knows? ;p
So, with this silly resolution, I plan to share with you, dear readers, whatever interesting stuff I come across in my reading adventures on "On Cooking" in my future postings...